Written by You Nian-Siou; Photo credit: Yang You-Lin/ Wong Ting-Yao
---
INDIGENOUS SIGHT
2019-10-22
With remarkable aplomb, Yang You-Lin climbs over the parapets of high-rise buildings and descends vertically. The only means of support are two ropes connected to an anchor on the roof. He sometimes stops to clean a facade; other times he loosens the rope grab to go down slowly. Whenever he changes height of ascent or descent, he has to readjust the safety harness to the right position. When he lands, he is soaking wet. This is not a movie special effect, but Yang's work routine. He is a building exterior services technician, the so-called "Spider-Man" in Taiwan.
Born in 1978, Pangcah Yang You-Lin grew up in Changbin Township (Kakacawan in Pangcah language) in Taitung County. In the 1990's, Taipei had benefitted from a construction boom, which released a myriad of part-time jobs, giving rise to a wave of emigration of indigenous peoples from eastern Taiwan to Taipei to make a living. When Yang was about to go to the junior high school, he and his family left for Taipei. He studied and worked as a shuttering engineer at the same time, in order to help his family make ends meet.
Seventeen years ago while Yang You-Lin was walking on the street of Simending, he looked up at a gigantic billboard in the Jhonghua commercial district. A few "Spider-Men" were washing building exterior, and he could not help but stop to look at them work. Perhaps because of his tall and fit figure or spellbound gaze, one of the technicians asked him, after landing, "Hey, young man, wanna try?"
"Sure!" said Yang You-Lin. This encounter opened the door to Yang's career working as a "Spider-Man."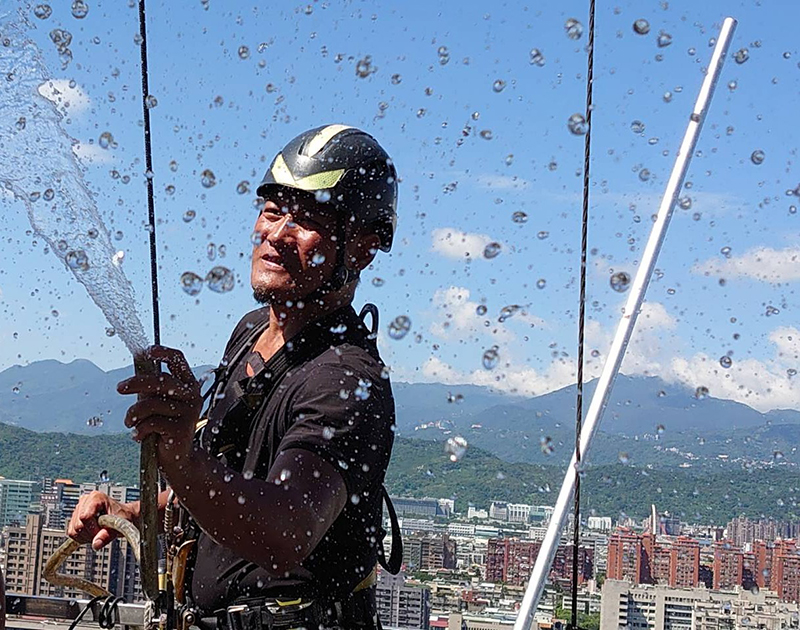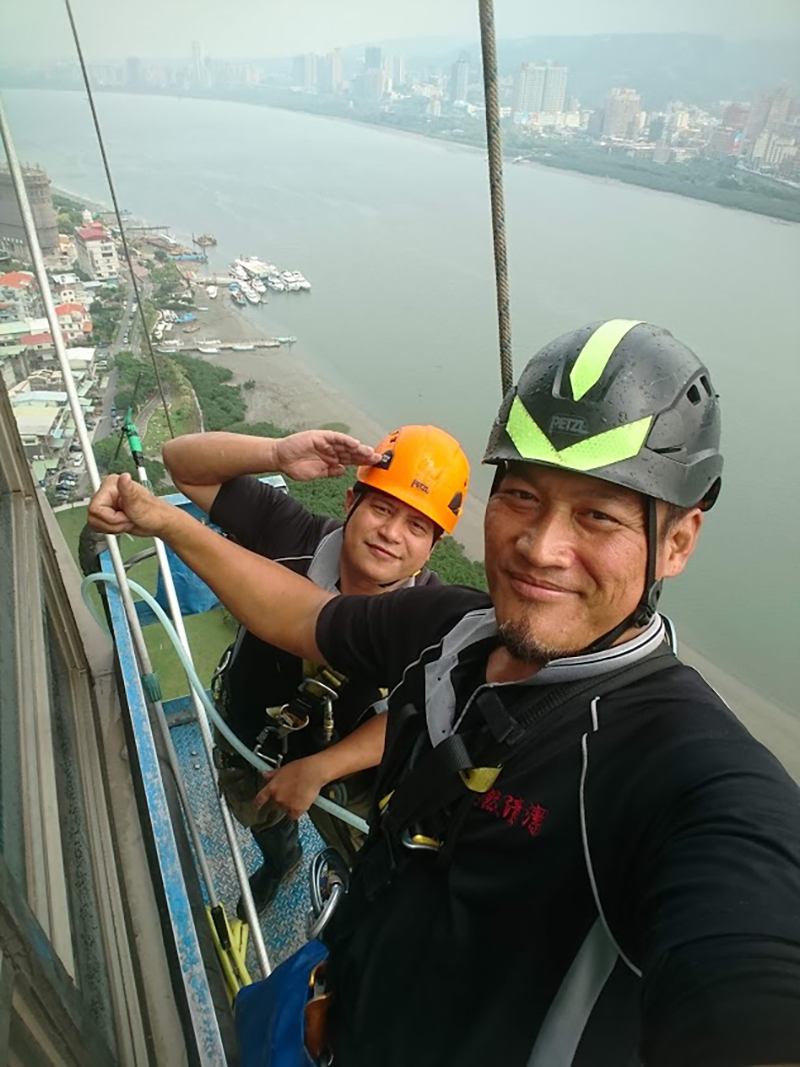 With 17 years of experience, working as a "Spider-Man" to Yang You-Lin is like a duck to water. He completely enjoys moving up and down aloft.
An Adept at Withstanding Height and Heat
with a Positive Attitude Had All Skyscrapers in Taiwan in His Capable Hands
"The tallest building I have cleaned is Taipei 101!" Yang You-Lin said briskly. If you are not careful, no matter whether it is a 20-story, or 99-story building, when you fall, you die anyway.
Building exterior services can be done in two approaches including a cleaning carriage or a Bosun's chair. A cleaning carriage is used for cleaning buildings with flat surfaces. Technicians have to be fastened by safety harness, so that they can ascend and descend in the carriage. For curtain windows of buildings in cities, they can be washed by technicians in carriages. However, for old communities whose residents had iron bars installed outside windows or buildings with tight areas on the roof, a Bosun's chair has to be utilised.
The ability to work in a Bosun's chair is a basic requirement for a "Spider-Man." The actual work content does not only include the most basic building exterior cleaning, but also any tasks pertaining to building exterior maintenance such as removal or repair of tiles, installation of windows, or plumbing, etc., all done by a "Spider-Man."
When setting up a descent system on the roof, the most important job is to secure an anchor. Each "Spider-Man" fastens two pieces of harness around himself; one is used to ascend or descend, and the other is the lifeline of a "Spider-Man." The array of tools includes a seat, arresters, and hooks along with other equipment required to conduct the maintenance tasks. All the equipment can weigh up to 5 or 6 kg, and all this weight centres on the board under the buttocks. A "Spider-Man" is hung aloft for 6 or 7 hours every day, so their occupational hazard is often found around their waist. Thick calluses are also formed on their hands. Every day after work, building windows are clean and transparent, but their hands are dark with dirty and hard calluses.
"Doing this job is actually not difficult as long as you are not afraid of height," said Yang You-Lin. "Spider-Men" are neither afraid of heat nor coldness, but the only enemy is wind. A breeze is bad enough to make them dangle back and forth from the ropes high above the ground. Even though the ropes are durable, their fear is still inevitable.
Yang You-Lin quite enjoys the excitement brought by this challenging job though. He often posts pictures of himself working high in the sky on Facebook, putting his friends in awe. Sometimes when he sees kids in the buildings staring at him curiously, with childlike enthusiasm he will use the foam window squeegee to draw pictures on windows and make kids laugh. It seems easy to do this job well, but Yang has high expectations for himself. He is willing to spend more time making sure the work is completed perfectly. If his partner for the day is also an indigenous person, he will feel especially happy. "It is more likely to work in sync with indigenous peoples. We work hard and take a rest together. When we cooperate to get the job done, it feels like working and living with my people together in the village."
After an Accident,
Safety at Work becomes the Rule of Thumb
According to the regulations promulgated by the Ministry of Labour, building exterior maintenance has to be conducted by a pair; therefore, they can look after each other when accidents happen. If Yang You-Lin's partner is a novice, he will remind him patiently to check, check, and double check. Yang wants to reconfirm all the safety procedures, for he had a very serious accident at work.
When he just started the job, all senior technicians cared about was get the job done and rush novices, instead of sparing more time for ensuring that the safety equipment was all set. In the second year into this job, Yang fell head over heels from the second floor to the first while he was descending. Although he got his life back, he was hospitalised for a month and had to wait for another year to resume the work. Now whenever seasons change, a splitting headache is an after-effect that still haunts him. Nevertheless, Yang You-Lin considers himself lucky compared with six of his colleagues who died of injuries incurred at work.
"Since then, I have put emphasis on safety," stressed Yang. Twenty to thirty years ago, occupational safety was not an important issue to the society and the government. The equipment provided by companies was insufficient; workers were not careful and serious enough. Some of them even put on slippers or worked without their tops. That accident was a message from the God. Since then, he has paid for his own equipment purchased from abroad, and checks his safety gear every night before work. When he is at work, he will follow each safety procedure precisely and painstakingly.
One Incident
Marked the Beginning of Indigenous People,s Fight For Labour Rights
"In my village, seniors told young people to help one another, but you don't see people do this in the cities." Even though Yang You-Lin has lived in Taipei for years, he is still not used to the city life. He said sadly that he usually had customers who gave him a hard time. They criticised him for not washing the windows clean enough in order to ask for bargain prices or even escape payment. When he faces unreasonable criticism, he would rather give up payment instead of arguing, so that he will not delay the scheduled work in other sites. What really frustrates him is not loss of money, but the fact that the effort he makes into his work is trampled on.
In addition to difficult customers, Yang You-Lin once worked for a Non-indigenous employer who did not respect the traditions and culture of indigenous peoples. One year, Yang had to take 3 days off to return to his community and participate in the annual harvest festival. However, when he returned to work, he realised that his job position was frozen. He has witnessed all the unfair treatment received by the indigenous peoples living in the cities, and hence started to participate in all sorts of indigenous rights movement. He takes the political struggle onto the streets to fight for indigenous labour rights. He hopes that the government can amend the "Ritual and Festival Leave for Indigenous Peoples" in the "Implementation Regulations on Memorial Days and Holidays" from 1 day to 3 days.
As an indigenous person living in the city, Yang You-Lin never forgets about his hometown. Whenever he is not happy with work, he takes his pet dog, Luka, to the beaches in Tocheng Township of Yilan County on holidays. "Oceans are important to me." Growing up around the ocean, as long as he is at the beach; he feels like travelling along the waves and currents back home, where Jingang (meaning gorilla) Mountain is surrounded by a sea of clouds, images of full rice ears dropping down greet the eyes, and the view of the Pacific Ocean stretches as far as the eye can see.
For Yang You-Lin, Taipei was always a temporary stop; neither the root, nor the place to settle down. He plans to move back to Changbin Township in Taitung with his family in 5 to 10 years. He wants to build a new house and grow old in the place which he is most familiar with. After years of dangling amongst the tall buildings of the metropolis, what the "Spider-Man" really longs for is to stand firmly on the hometurf of the Eastern coast of Taiwan, with his feet.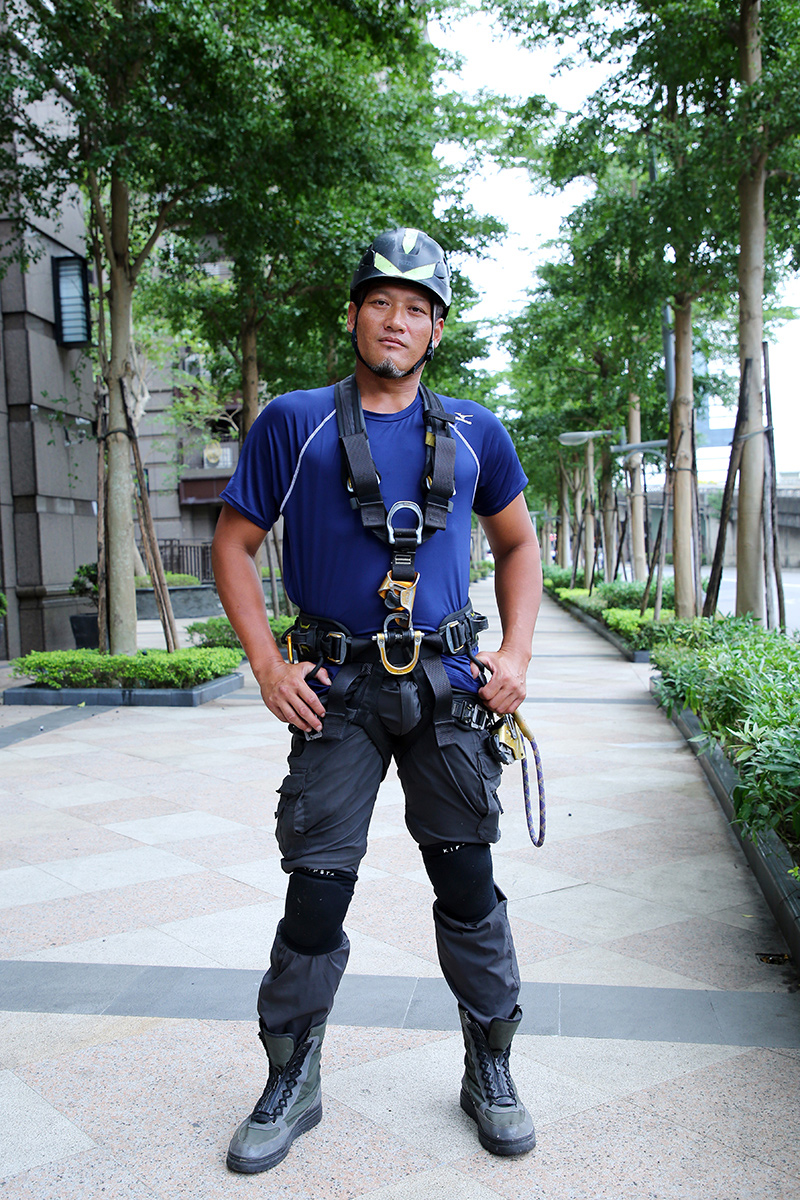 Yang You-Lin values occupational safety. He has to check all the equipment precisely and painstakingly. As experienced as he is, working on a carriage or a Bosun's chair is just a piece of cake.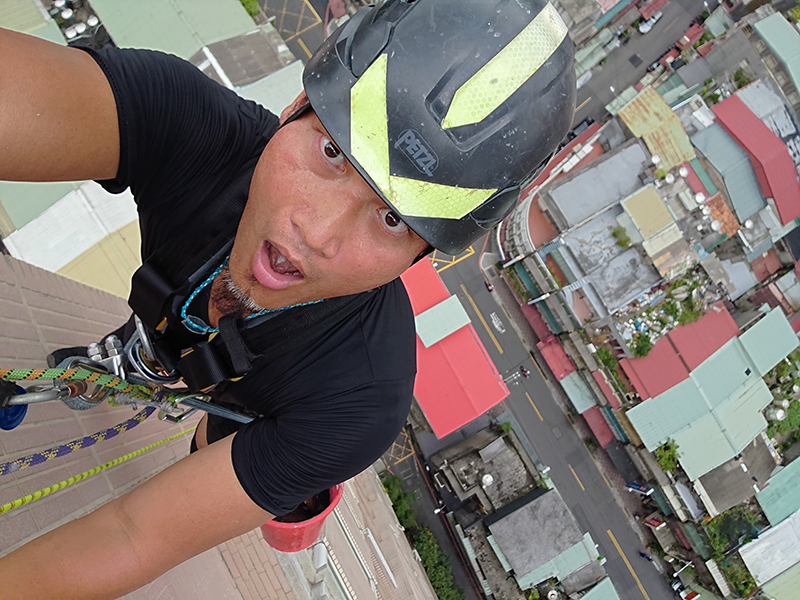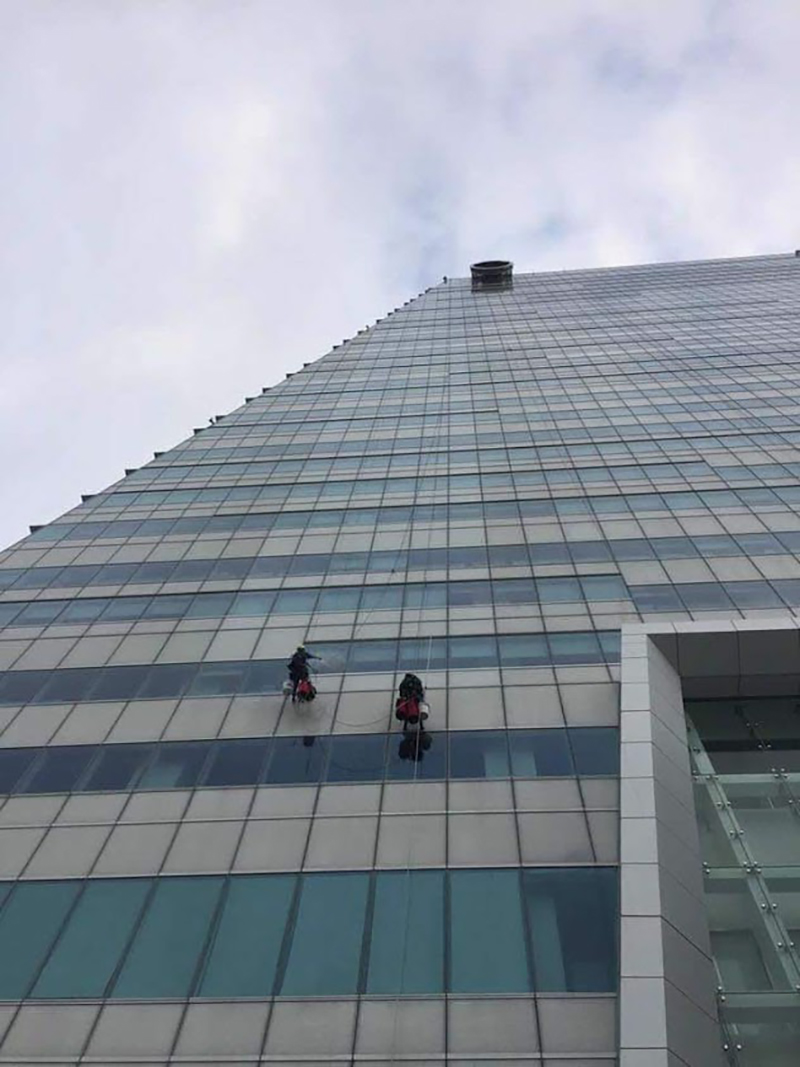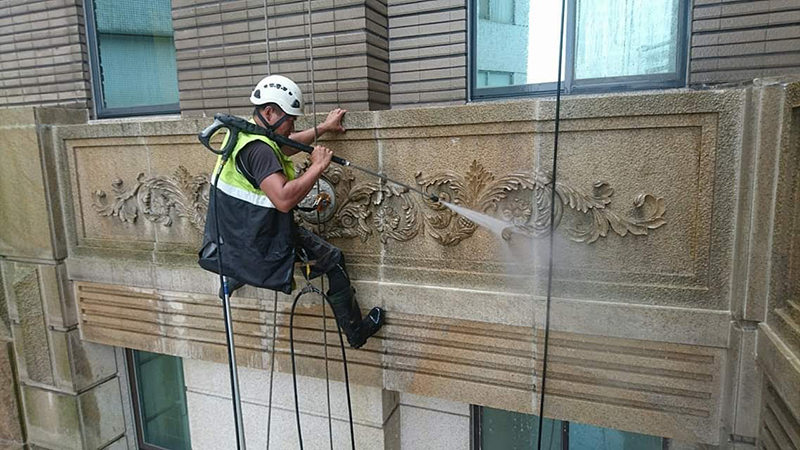 ---