Written by You Nian-Siou; Photo credit: Huang Jian-Bin
---
INDIGENOUS SIGHT
2019-10-22
"These here are rosemary, and those on the wood structures are honeysuckle." Bai Jin-Shan, Atayal leader of the Jianshih Township Special Crops Agriculture Production and Marketing Group easily points out all the different herbs in the fields of Lalu community in Jianshih Township, Hsinchu County.
Walking through the misty, quiet mountain forest, it's hard to imagine there is an herb kingdom hidden in the Atayal community deep in the mountains. From breeding and growing herbs to distilling and producing floral waters, every process is completed here in Lalu community. Due to the products' outstanding quality, many aromatherapy brands in European countries and the US import ingredients from Lalu.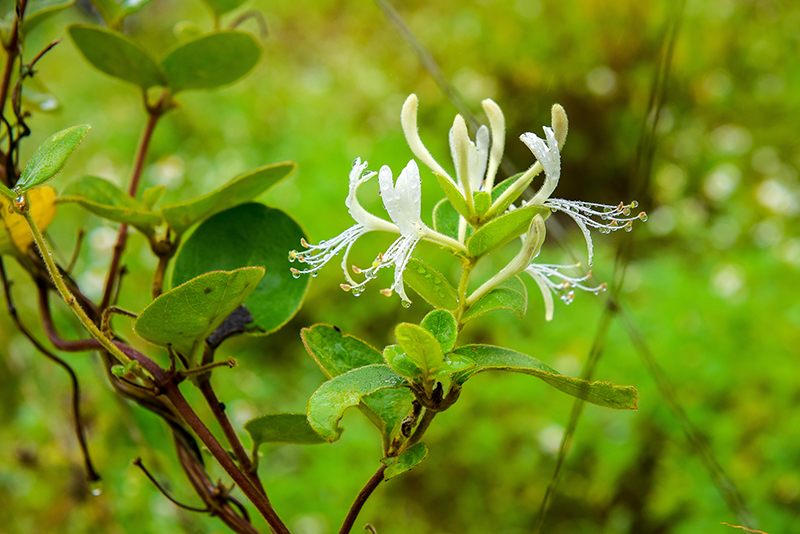 Honeysuckle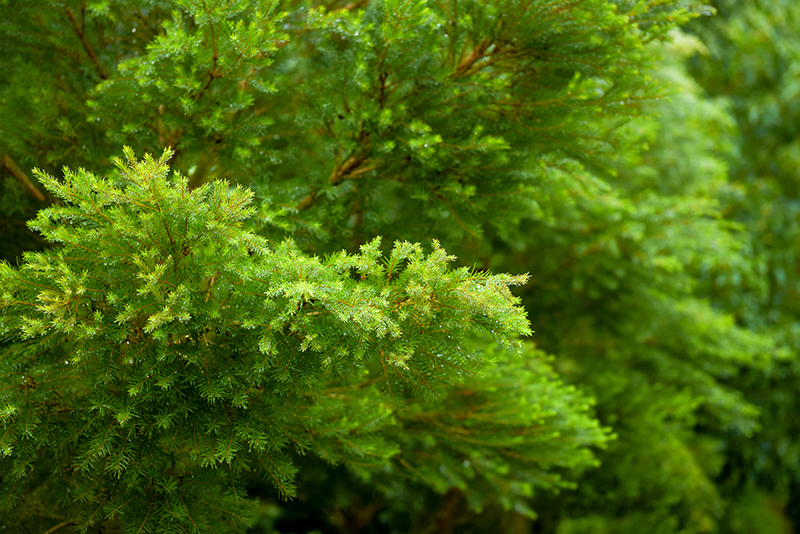 Australian Tea Tree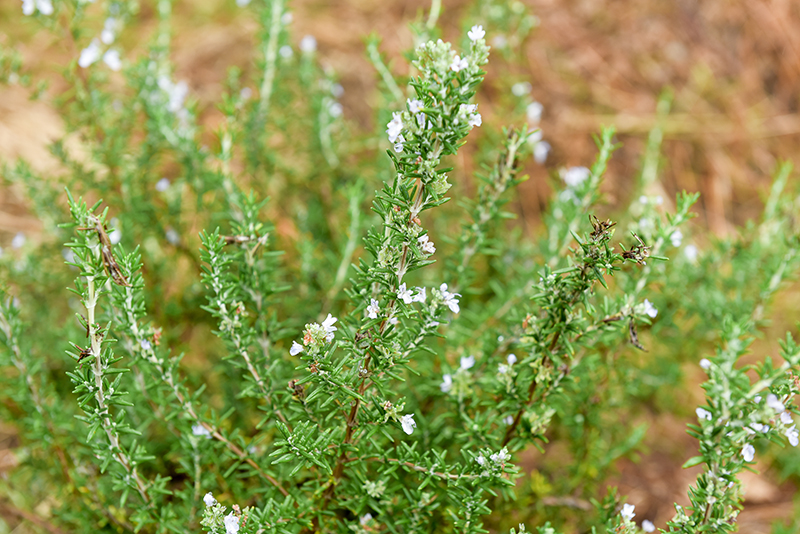 Blue Boy Rosemary
A wide array of herbs are grown in Lalu community. Herbal elements are extracted and made into floral water which preserves the herbs' aroma and energy.
About a decade ago, Lalu community began to work with Xinshe Nursery to grow herbs. They planted nearly five hectares of herbs which were mainly for community tourism purposes. Selling aromatherapy products was just a secondary objective. In August, 2004, northern Taiwan was heavily hit by Severe Typhoon Acre. Lalu community was ripped by major mudslides which destroyed most of the herb gardens and agri-tourism equipment. The long road to recovery almost made the community members give up herb farming.
"But you have lands that have so much to offer! Why are you abandoning them?" Wu Shou-Mei exclaimed. Wu, known as "Teacher" by the community, is one of the pioneers of aromatherapy in Taiwan. She visited Lalu community before the typhoon and was pleasantly surprised by how suitable the environment is for growing herbs. According to aromatherapy textbooks, herbs must be grown in a Mediterranean climate which is cold/cool and dry. Theoretically, Taiwan, which is located in the subtropical zone, is not ideal for producing herbs; but Lalu community is situated at an elevation of 500 to 900 meters and has clear sweet mountain spring water, which makes the community perfect for cultivating herbs. Wu Shou-Mei really did not wish to see the herb culture in Lalu community disappear after the typhoon.
The recovery process went on for many years. Assisted by society, Lalu community set up Jianshih Township Special Crops Agriculture Production and Marketing Group in 2008. At that time, there were only two members: Wu and the serving board director, but the collaboration between indigenous and Non-indigenous peoples managed to kick off the recovery of the local herb growing industry. Wu and the board director kept on persuading community members: "you can earn more with floral water than with essential oils. Selling water is better than selling petrol!" Gradually, the herb farmers began to join in.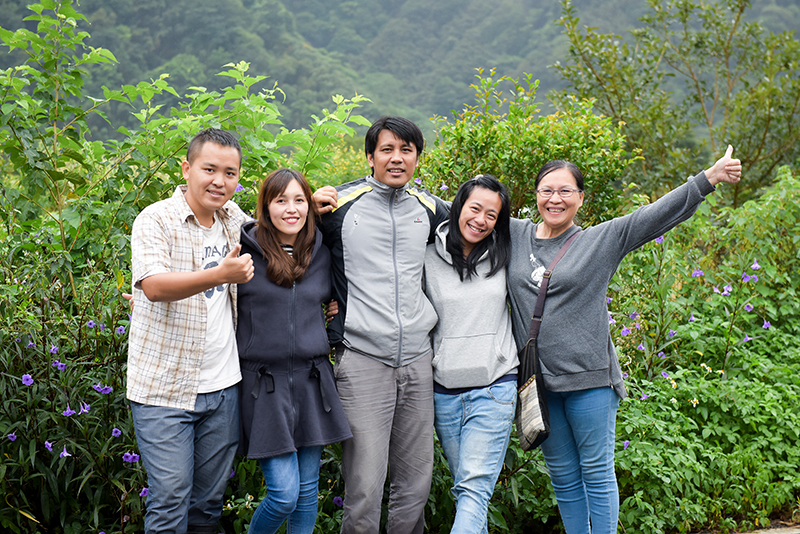 Members of Naroherbs: Left, extractive master Fan Shuo-Wen. Middle, Bai Jin-Shan, current leader of the Jianshih Township Special Crops Agriculture Production and Marketing Group. Right, teacher Wu Shou-Mei.
Essential Oil,s Twin: Floral Water
Versatile Applications Create Endless Business Opportunities
"Our floral waters do not have any additives. It is definitely safe to drink!" Bai Jin-Shan says proudly. Floral water is also known as "the twin of essential oil". When herbs are distilled in a boiler, they produce two liquids with natural chemical molecules. Essential oils contain the molecules that cannot be dissolved in water, and the highly hydrophilic molecules are dissolved into floral waters.
Floral water looks like water, but can be used in many ways. It can be applied externally and internally, or manufactured into beauty products such as face masks, lotions, and essences as well. Unlike other floral water brands on the market, Lalu community only produces floral waters, no essential oils. Wu Shou-Mei used cypress water as an example. The cypress water extracted overseas is kept at a temperature between 220°C and 280°C, but Lalu community can keep it between 75°C and 90°C. The low temperature preserves the aromatic molecules and produces full-bodied aromatic floral waters.
Bai Jin-Shan also shared an Atayal legend: back then when people needed mountain spring water, they just needed to softly chant "qsya∼qsya∼ (Atayal for "water"), and their water jars at home will be automatically filled up. In Atayal culture, water is the love and blessing from the gods to the people. Lalu community uses pure mountain spring water to distill floral waters, making it one of the features of their products.
The retail price for floral waters imported from Europe and the US is around NTD 5,000 per kilo, which is very expensive. Lalu community has a location advantage and their products sell at only half the price. They quickly gained popularity within the aromatherapy circle and attracted many large beauty industry orders. In 2011, Jianshih Township Special Crops Agriculture Production and Marketing Group finally began to make profits, attracting more community members to take part in the industry. Furthermore, the neighboring Megalan and Thyakan communities also joined in. Currently the group has 20 farmers growing herbs and the annual sales amount is around NT$ five million.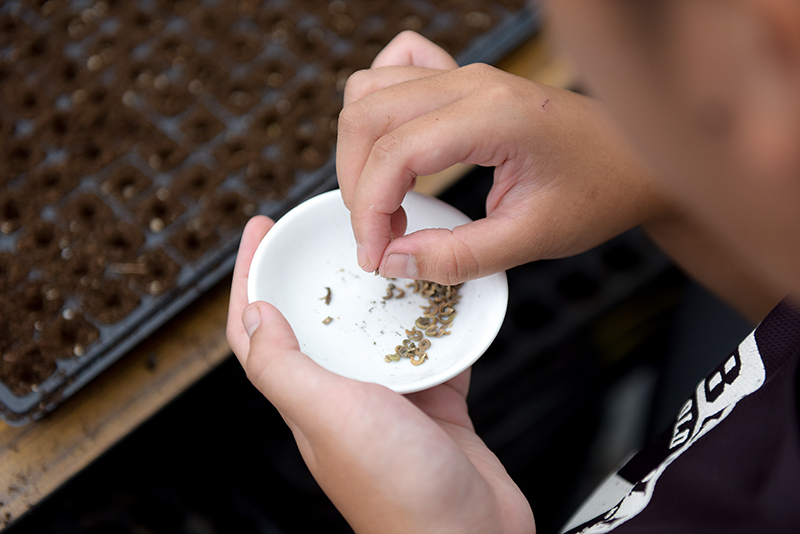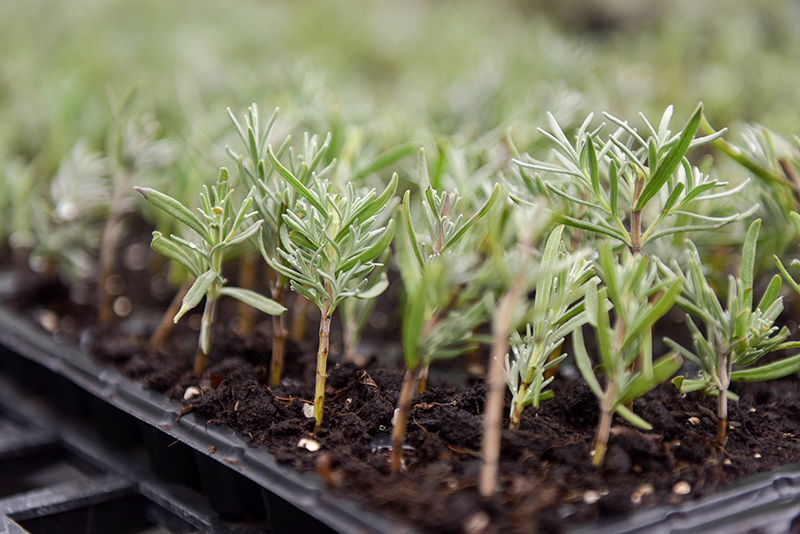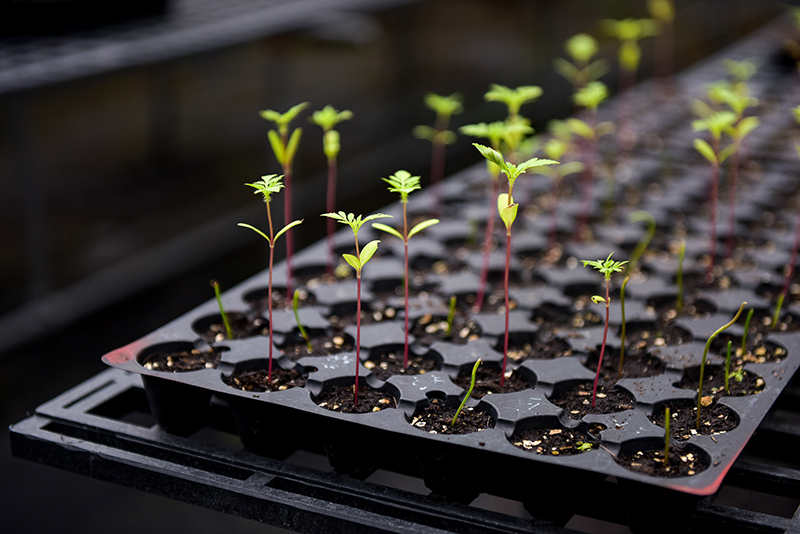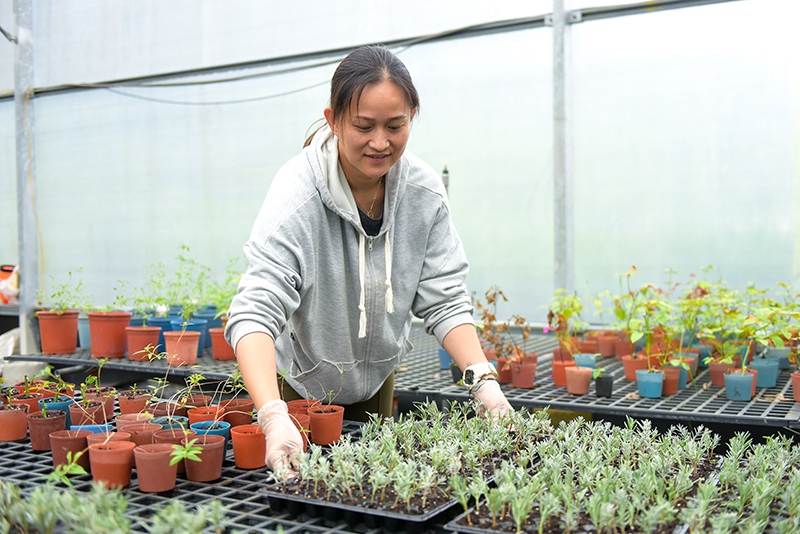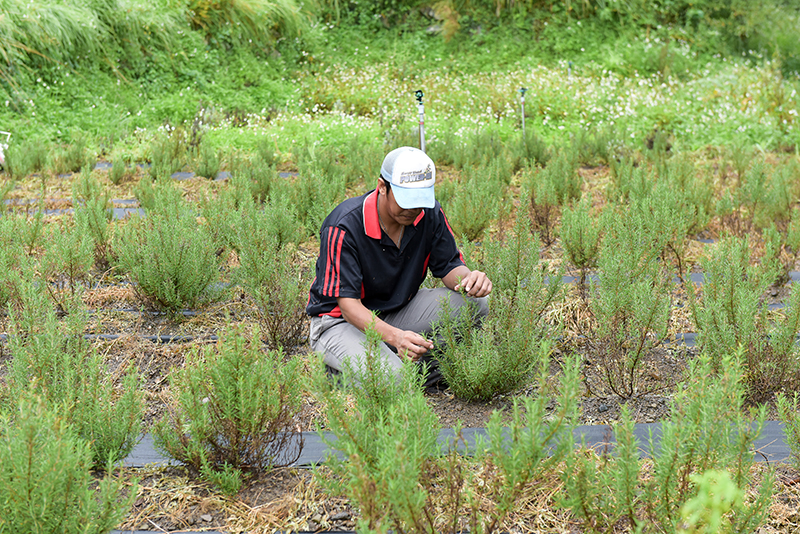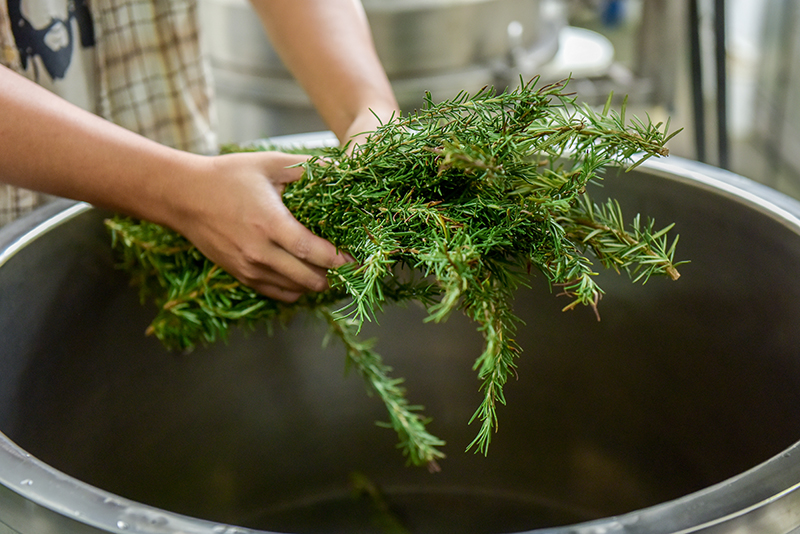 Jianshi Township Special Crops Agriculture Production and Marketing Group grows and breeds their own herb seeds and distills mature herbs into floral waters.
Production Place of the Iconic Indigenous Herb Yulan Magnolia
The Most Trustworthy Supplier to Aromatherapy Brands
In the beginning, Jianshi Township Special Crops Agriculture Production and Marketing Group only grew four to five species such as rosemary, sage, lavender, and chamomile. The seeds were supplied by the Council of Agriculture Executive Yuan. Wu Shou-Mei later started to import seeds and farmers set up greenhouses in the village for breeding purposes. Breeding seeds locally can significantly lower cultivation cost (locally-produced rosemary seeds are five times cheaper than procured seeds), and also allow the community to domesticate exotic breeds and produce species that are unique to the community.
Bai Jin-Shan explained that Lalu community currently has more than 40 species of herbs, and one-third of the seeds come from the community, including the village's indigenous may chang ("mountain pepper"), shell ginger, ginger lily, incense cedar, and indigenous cinnamon. All ingredients are wild herbs handpicked and processed by the local indigenous community members.
If you are looking for the most iconic herb of Lalu community, that would be the Yulan magnolia. Compared with the strongly aromatic magnolia flower, Yulan magnolia floral water has a more subtle scent. The light aroma is elegant and natural, similar to a combination of tea leaves and spices. The water also has anti-aging purposes, and is commonly used as a toner or consumed. Famous aromatherapy brands such as ANIUS and the Yulan magnolia skincare line by Taiwanese beauty guru Niuer all use Lalu community's Yulan magnolia floral water.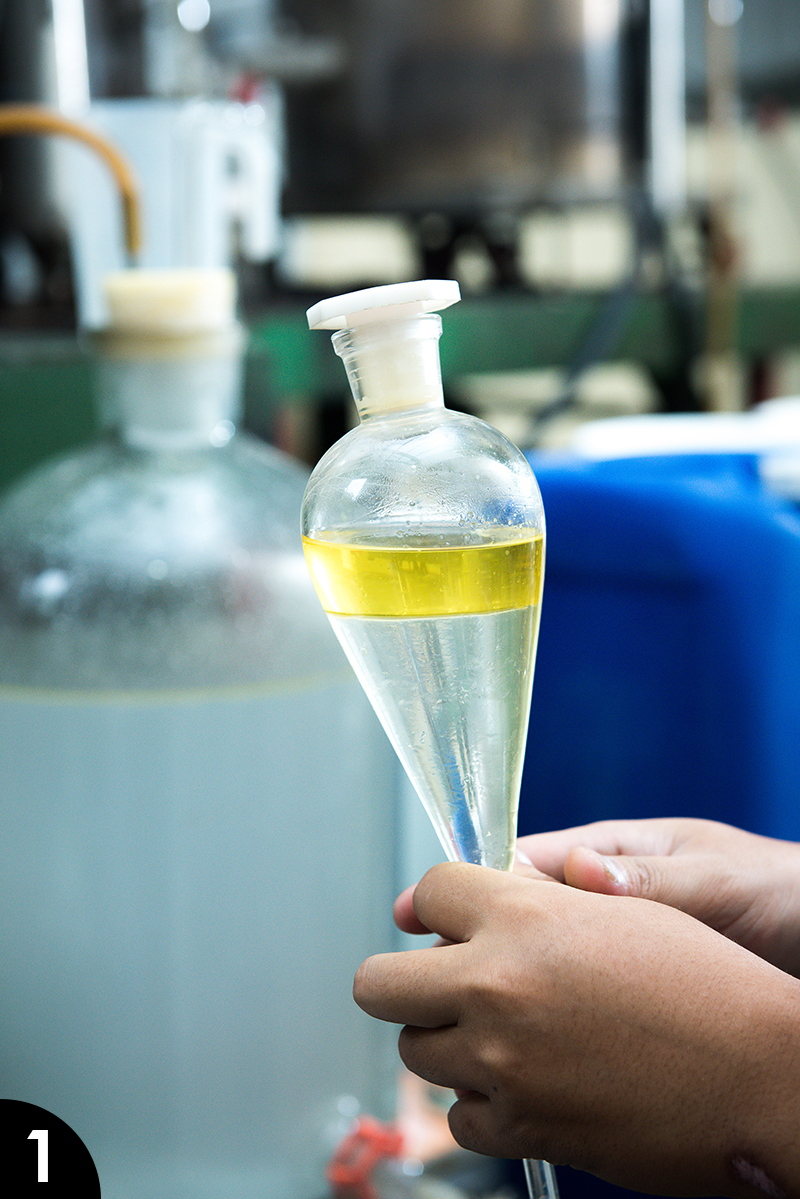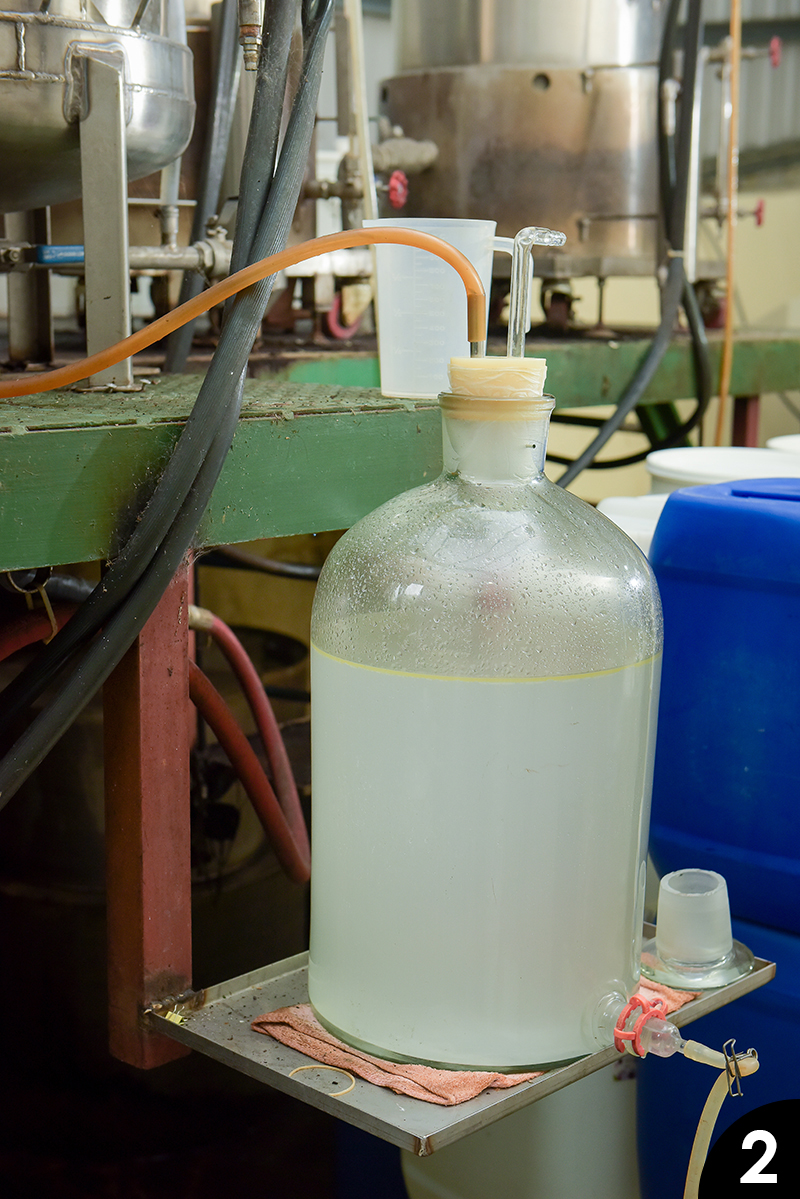 After the herbs are distilled, they can extract two liquids. 1 is essential oil, and 2 is floral water.
An Indigenous and Non- indigenous Collaboration
that Spreads Herbal and Floral Aromas Far and Wide
With 26 employees, Jianshi Township Special Crops Agriculture Production and Marketing Group comprises a Marketing Management Division, Tourism Operations Management Division, and Field Business Management Division. A group with indigenous and Non- indigenous members naturally means there will be some disagreements. One of the biggest issues is related to the usage of farming chemicals.
"Weeds grow very fast in herb gardens, and farmers who are used to spraying weed killers now have to weed their fields by hand. Of course they don't like it." says Wu Shou-Mei. She spent a lot of time promoting the new concept through various methods. She gave free seeds to the farmers and asked them to check on each other: if someone is caught using farming chemicals, they will immediately be kicked out of the group.
Gradually the farmers realized the advantages of eco-friendly farming. They not only stopped using chemicals, but also began to use organic fertilizer and compost. Every batch of distilled floral water is sent to the Food Industry Research and Development Institute for testing. The products are shipped to clients only after confirming its standard plate count is within regulations and do not have any residue of the 310 farming chemicals.
Bai Jin-Shan remarked that the soil damaged by mudslides is not really suitable for farming, but group members put down a 60-cm layer of wood sticks, wood meal, leaves and rice bran to cultivate soil that is suitable for growing herbs. The bamboo shacks surrounding the gardens can also be used to grow herbs and serve as a place for campers in the area to sample herbal tea.
"Our products are sold to Germany, the Netherlands, and Japan! We are a very wellknown raw material supplier in the international aromatherapy circle." The Agriculture Production and Marketing Group guarantees a high procuring price, and also gives out bonuses to farmers according to their contributed volume. Wu Shou-Mei said this idea actually came from the New Zealand kiwi company Zespri. The company is owned by fruit farmers and has a multiple bonus mechanism that encourages growers to improve their produce quality. So far, the Jianshi Township Special Crops Agriculture Production and Marketing Group has only welcomed more members and not seen anyone leave.
After successfully transitioning from farming to manufacturing, the group is now actively targeting business opportunities in the tourism service industry. They offer herb garden tours which also include DIY activities for eye masks, lotions, and mosquito repelling spray. In addition, they plan to apply for training project subsidies to train more personnel, and open an aromatherapy lifestyle school in Hangzhou, China. This indigenous and Non-indigenous collaboration is successfully spreading herbal and floral aromas from Lalu community to the world.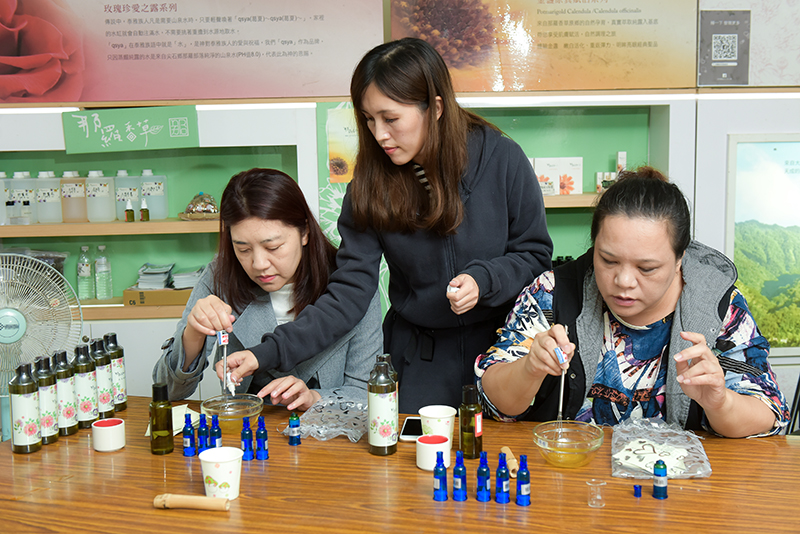 To further develop the tourism potential of Lalu community, the group offers DIY activities for visitors to experience and make various herbal products themselves.
---