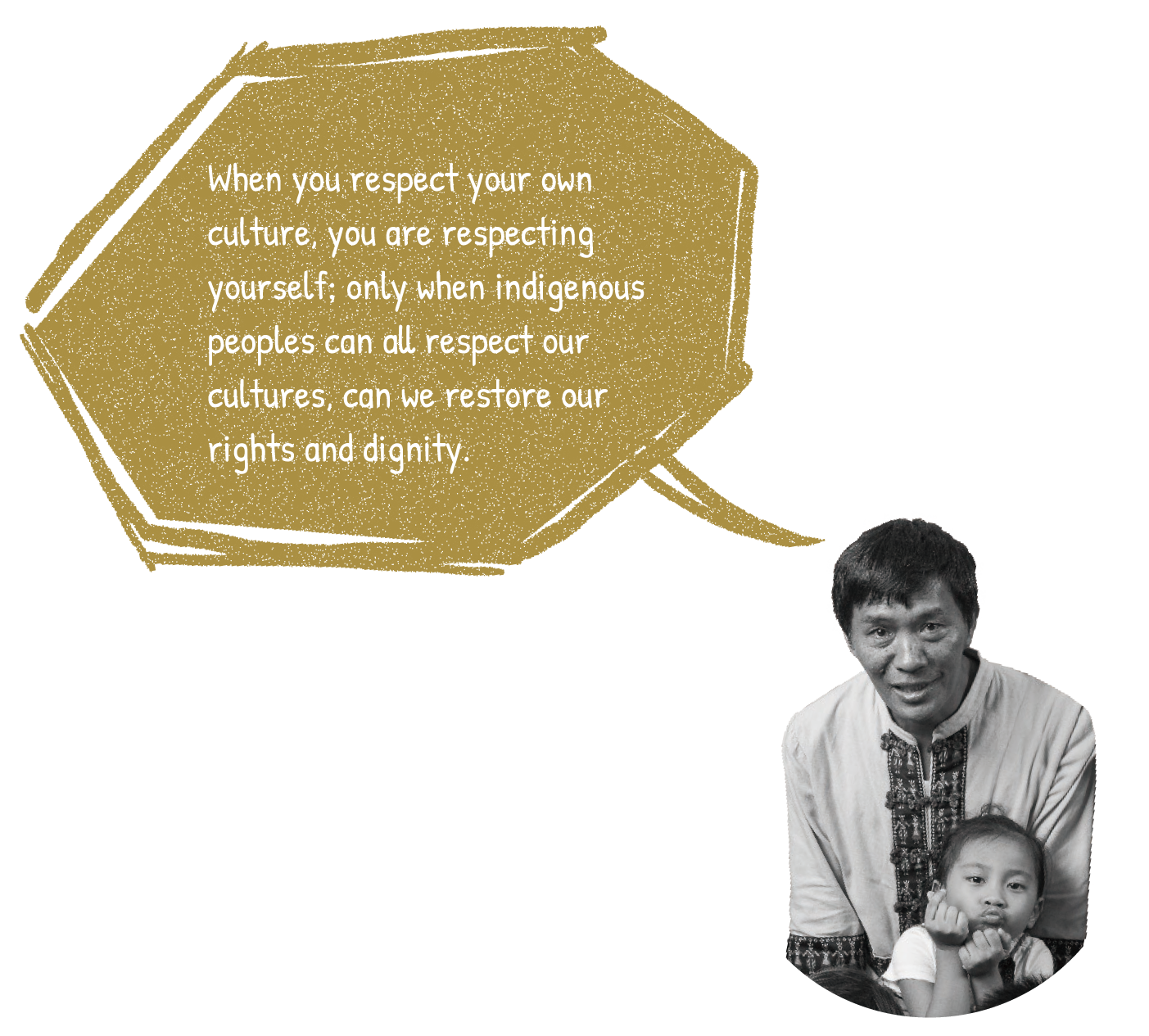 After the rapidly moving age of indigenous movements, buka.makakaruwang left everything behind and returned to his indigenous community. From the hot-headed youth carrying a coffin in protest, he turned to work for the church for almost two decades. Now he is the indigenous language promoter in his community, taking elders and children on a journey of learning to use their own language again, and retrieving the culture and dignity of their people.
"Stop Child Prostitution, Stop Human Trafficking!" January 10, 1987, to raise social awareness regarding indigenous child prostitution, over 30 NGOs sat in protest on Huaxi Street, the infamous red-light district in Taipei. buka.makakaruwang, who was then enrolled at Taiwan Seminary, was also among the protesting crowd.
That was when buka still went by the name David Hu. As a Paiwan person from Kaaluwan Community in Taitung County, he did not used to know much about indigenous issues, he was simply there because the protest was on a non-working day and that the Seminary is from the same system as the Presbyterian Church. Curiosity brought him and his classmates to the site.
At the protest, there were indigenous parents from different ethnic groups, and they sang in indigenous languages, calling out in tears the names of children sold to brothels. "Why is this happening to indigenous peoples? What is our status and value?" This event gave buka a tremendous shock, awakening him to indigenous and social issues. He thus began engaging in many social movements.
Tombs Dug, Corpses Destroyed,
How can We Remain Silent?
March 1st, 1987, the plot in Tongpu Community in Hsinyi Township, Nantou County, which had been a cemetery ground since the Japanese ruling period, had its purpose repealed by the township office in order to develop the "Tongpu Scenic Area". Without notifying family members, the County Government allowed ruthless excavators inside to destroy the tombs one after another, corpses were dug up and exposed to the sun. Shattered tombstones, coffins, rubble, and corpses mixed in a heap, a devastating sight.
buka remembered how his village once had a torrential rain wash away their ancestral tombs, leaving the coffins exposed, and people in the community restored the cemetery with heavy hearts, "it was extremely painful for our community." Natural disasters alone were difficult enough to cope with, not to mention the State excavating the ancestral burial ground while the people were at church. buka sighed heavily, "it was unfathomable how they could be so disrespectful?"
The Tongpu grave-digging incident brought everyone in indigenous movements together. They understood that if they don't speak up now, history will repeat itself in the future when indigenous lands are again in conflict with economic benefits. April 3rd the same year, Taiwan Indigenous Peoples' Right Advocacy Association mobilized a crowd in a protest march. Already a member of the Association by then, buka wore a white banner with the words "Step Down and End Yourselves Wu Fu-Ding and Wu Den-Yih," held up a crucifix and marched fearlessly down the Ketagalan Boulevard with the protesting crowd. buka and his uncle parangalan held up a coffin casket from Tongpu Village, measuring 6.6 meters, and let it stand on the empty ground in protest against the government for showing no concern for the rights of indigenous peoples.
The protest may not have changed the fact that the ancestral tombs of the Bunun people were dug up, but incidents of march against child prostitution at Huaxi Street, Tongpu grave-digging, and Tang Ying-Shen execution, which took place one after another in 1987, gave rise to the momentum that had been building up for quite some time. In 1988, indigenous peoples launched the first Give Back Our Lands Movement, the start of the revolutionary age of indigenous movements.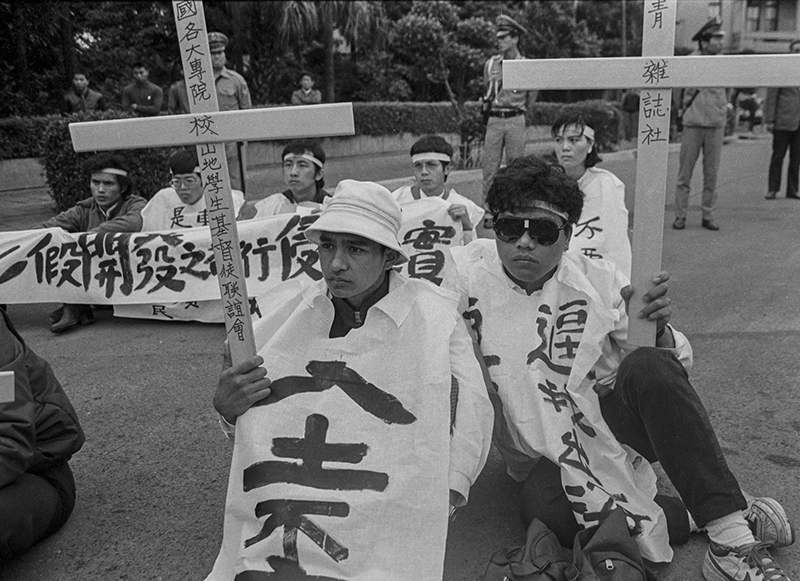 Protesting the government's disrespect for indigenous peoples, intentionally digging the ancestral graves, and violating the rights of indigenous peoples, the Association launched a protest against Tongpu grave-digging, and indigenous peoples everywhere joined in support.
We are All from This Land
buka continues to be active in social movements and is concerned about social and indigenous issues. After Taiwan Indigenous Peoples' Right Advocacy Association took a break, he briefly participated in events organized by the Democratic Progressive Party before deciding to return home. buka say, "being in a political party has never been my goal, I had always intended on coming back to my community."
When he first returned, people knew of his experience in social movements and joining the DPP and felt that this kid who returned from the city had become radical. buka laughs, "everything I did, they saw as anti-government." It wasn't until buka and his older brother organized a trip to "return home to our root" and took everyone on a journey back to the old village deep in the Dawu mountain, did people begin to accept him, "because they knew that I'm no stranger, and that we are all from this land."
In 2000, Kaaluwan Community was listed as a candidate for low-level nuclear waste final storage site. The Atomic Energy Commission of Executive Yuan held a public hearing at the village, buka and his wife stood at the back of the venue and explained to the elders in indigenous language the effect of a nuclear waste storage site. After buka explained, the elders felt that it was not a good idea and started to leave. The public hearing could not proceed and hence the follow up prospecting was successfully stopped.
"If we see unfairness and injustice, and say nothing and do nothing, then we give the power that oppresses us even more power." As a reverend at Taimali Church, buka was trained as a clergy wearing a peaceful look, but the faith in his eyes to defend the rights of indigenous peoples is as determined as the passionate young adult protesting in the street while holding up a coffin back then.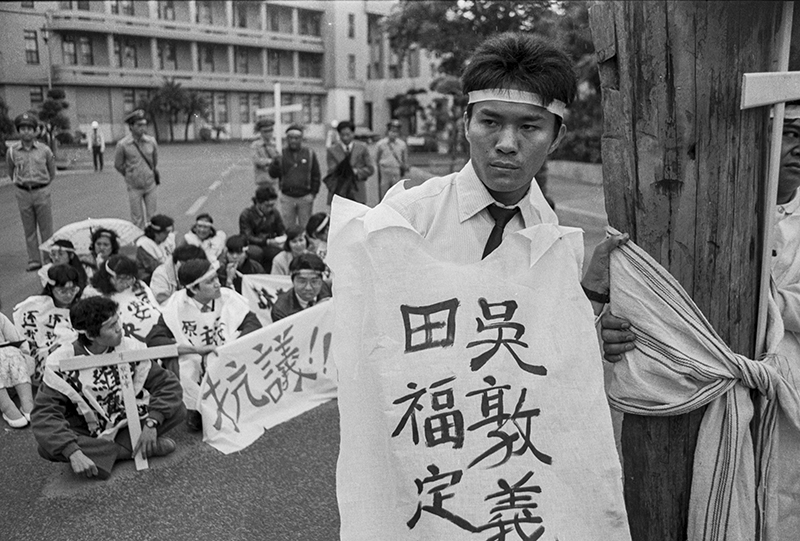 buka at the protest against Tongpu grave-digging incident.
Language is the Life of Indigenous Peoples,
Which is Interdependent with Culture
buka didn't know his language growing up. After returning home from the city, he decided to start learning his mother language again. "When I was young, we spoke Japanese at home and Chinese at school, at the Seminary, we spoke Taiwan, but when you come back to the village, you can only speak indigenous language," he laughs and say, "because people in the church and in the village only spoke indigenous language!" buke taught himself the language using the Paiwan version Bible, and with assistance from his wife, it only took him two years to receive the indigenous language proficiency certification.
With his indigenous language proficiency certification, he retired from clerical work after Typhoon Morakot and became an indigenous language promoter at Taimali Township Office, promoting the development and preservation of Paiwan language at various indigenous villages, preschools, and indigenous language families. "The crisis of the dwindling mother language is not only happening to the next generation, but the older generation is also using less and less indigenous language. If the language is not used for a long time, it will be forgotten," say buka. Language is not only a medium for communication, but it also carries with it profound culture and knowledge of the ethnic group. Therefore, he works with cultural health centers and community care centers in indigenous villages, establish "indigenous language assembly house" to encourage elders to converse in indigenous language, and uncover the wealth of knowledge buried in the language.
"Without culture, there is not stage for language; without language, there is no life for ethnic culture," buka says with a heavy heart.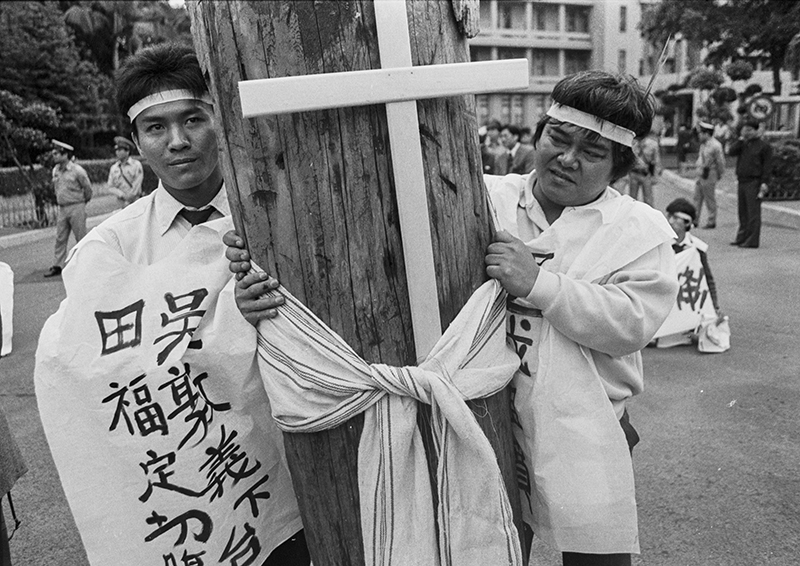 buka at the protest against Tongpu grave-digging incident.
We have Yet to Recover Our Dignity
It has been 40 years since he first took part in indigenous movements. Although indigenous peoples have gained somewhat equal rights legally, buka feels that "we have yet to really recover our dignity."
"The rights indigenous peoples have now should not be 'given', they were restored to indigenous peoples because we were deprived of them earlier on." He says that as the government slowly restores the rights, indigenous peoples must also accept their own cultures to recover their dignity.
Explaining in the concept of Christian atonement, the position he holds now as an indigenous language promoter is just like the role of a priest in atonement, restoring the rights to indigenous peoples, "I hope to use language as a medium to retrieve our culture, and establish the identity of self and ethnic group for future generations."
---