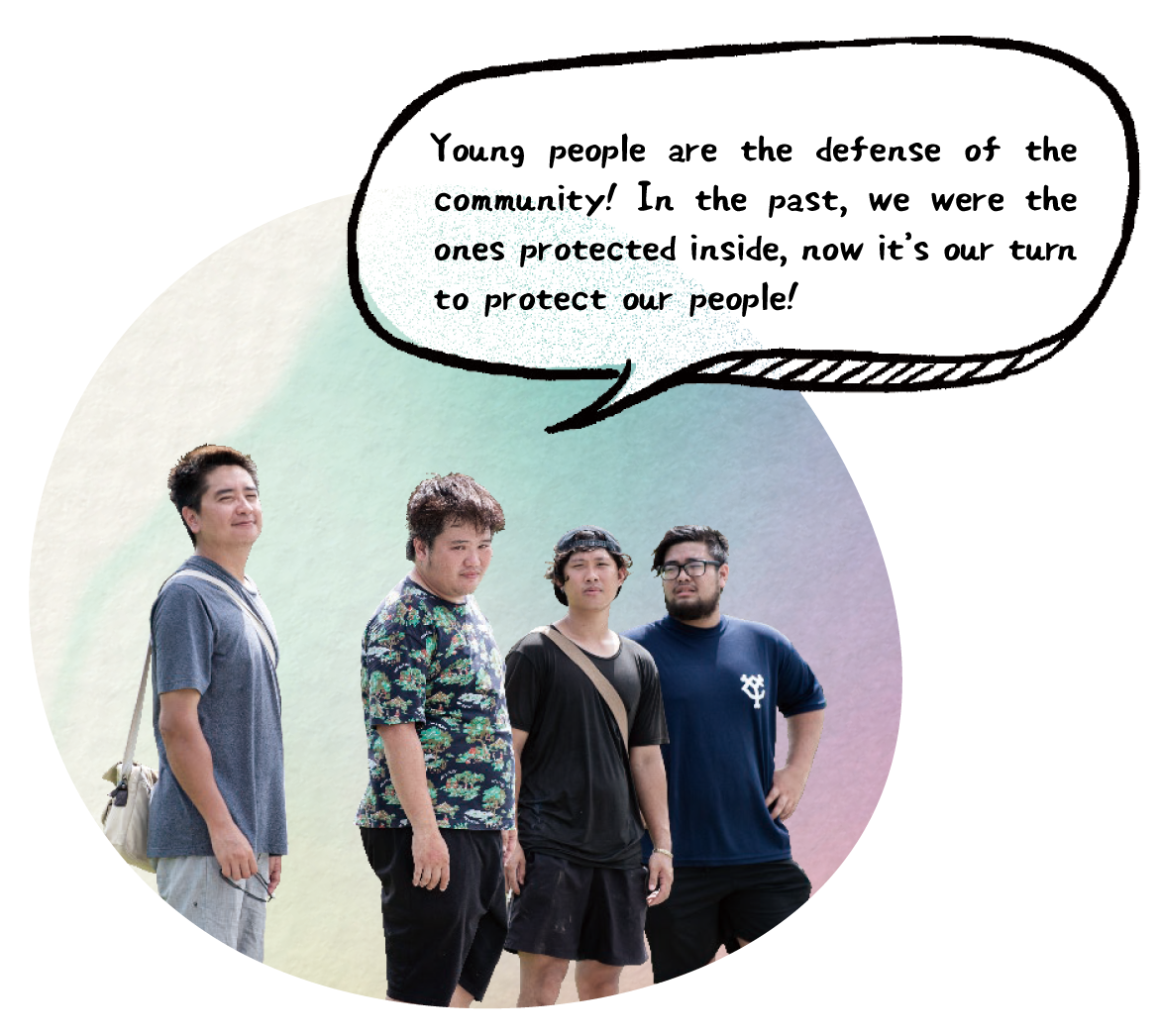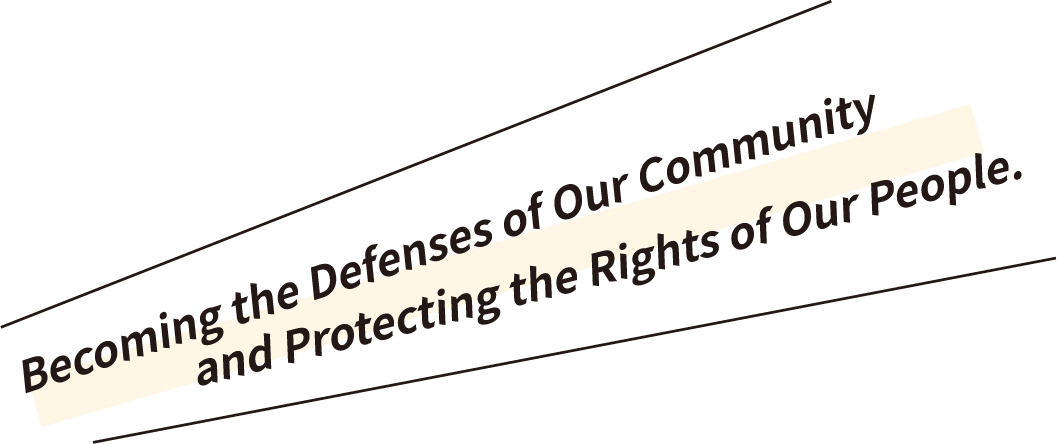 The construction plan of the six poultry farms ignited the largest environmental protection protest movement in recent years in Hualien. Following the examples of their uncles and elder brothers, the youth of Tafalong Community are stepping up to defend their community and protect their people.
Located in Guangfu Township, Hualien, Tafalong Community is the largest Pangcah community in Taiwan. It also has a Mandarin name - Futian ("abundant fields") because of its rich soil and plentiful harvests. However, this beautiful pastoral scene was disrupted after the commercial cattle farms appeared.
In 2018, Taiwan Charoen Pokphand Enterprise (CP Enterprise) planned to build six poultry farms in Hualien. The farms are located in Guangfu, Fenglin, and Shoufeng Townships, respectively, and five of them have already obtained operation licenses. However, one of the poultry farms is only 1 kilometer away from Tafalong Community and merely 300 meters away from Fahol Community. In addition, 400 meters beyond the planned poultry farm, there is a larger cattle farm that is near completion and waiting for its stock farming license.
Stepping Up to Protect Our Lands
Because this impacts the communities' land and environment, a number of townships and Communities organized self-help organizations to protest against CP Enterprise. The movement, which became the largest environmental protest event in recent Hualien, not only collected over ten thousand signatures but also led to a thousand-people march. Among the many self-help organizations, the Hualien Central District Youth Team is composed of community members from Tafalong Community, Fahol Community, and local young people who care about social issues. Twenty-nine years old Tafalong youth Foday is one of the team's cadres.
What caused the local residents to protest so strongly? Three decades ago, pig farm operators entered the village and severely affected the community members' living environment. "In the past, the residents in Guangfu used water from Guangfu Township, but now they have to get water from Fenglin." Foday explained, "because the wastewater from the pig farms polluted the river with bacterium coli." Another Tafalong youth Sun Zhi-Guo added, "back then nobody knew it would cause such a serious problem, so no one stepped up to oppose it."
When CP Enterprise set up factories in the western part of Taiwan, there were a lot of pollution issues including wastewater and odor problems. In 2020, it was revealed that the company dumped meat paste illegally in Changhua and polluted various areas of land. Seeing these past cases, the angry community members quickly united and ignited a blaze of protests.
Carrying On the Strength and will Our Elder Brothers Showed Us
Foday , who came forward to protect his community, admitted he did not have much impression of his community before this. During his second year in elementary school, his family moved to Hualien City. He later studied and worked in Taoyuan and only returned to the village four years ago to take care of his ailing grandfather.
During his first year back in the community, Foday attended adult classes for community rituals. That's where he heard a senior member say, "the young people are the defense of the community!". His words left a strong impression on Foday. Foday believes that "regardless of the outcome, we need to be on the front lines. And now I am here, I should keep the bad things out of our village. This is what our elder brothers taught us."
According to his research, CP Enterprise's poultry farms are located next to the "ga-nang-nang" (Damo) River, which is an important irrigation water source of the village. If wastewater from the farms is released into the river, it will flow downstream directly. "Does that mean we have to irrigate our rice with manure water? Chicken farms also cause air pollution. And there are so many elders and children in the village, how can we force them to endure the stench every day?"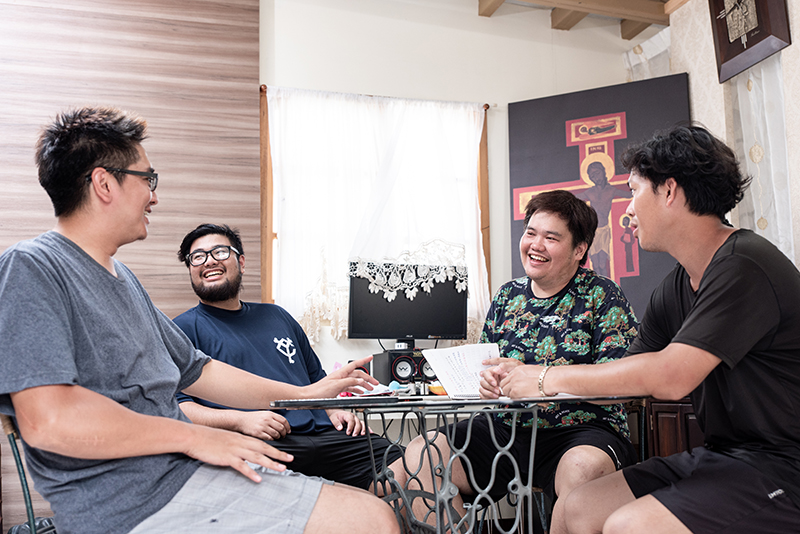 Linking Together the Regions to Protect Our Homes
Initially, the village was oblivious to the poultry farm plans. It was not until 2019 when CP Enterprise started construction work at Fengping Village in Shoufeng did the residents realize what was going on. Local protests reached their peak last year. The main protesting force of Fenglin Township, which has the densest distribution of poultry farms, is the Fenglin Self-help Organization. They collaborated with communities and self-help organizations from different regions to organize marches. The groups also visited Hualien County Magistrate Xu Zhen-Wei and filed a petition, and some community members even traveled to Taipei to protest outside of the CP Enterprise press conference. At the same time, community members continued to send out information on online communities to magnify their voices. Since the opinions of the elders carry weight in communities, Foday drew out the area which will be affected by the poultry farms and assembled community leaders to discuss the severity of the issue.
Faced with these protests, CP Enterprise responded with a "zero communication" policy and simply stated that everything the company did was legal. The company did not hold any explanation sessions. "CP Enterprise is unwilling to respond to us and explain themselves when we have so many questions. This makes us residents even more anxious," said Tafalong Community youth Wang Jian-Nian.
He pointed out the problem is caused by a grey area in related legislation. According to Article 21 in The Indigenous Peoples Basic Law, when governments or private parties engage in land development on indigenous land or adjoining land, they should consult and obtain consent from the indigenous community members. However, the provisions excluded privately-owned lands. Since the CP Enterprise poultry farm and cattle farm are set on privately-owned lands, the company is not breaking any laws if they refuse to hold explanation sessions. Wang pointed out that this is a loophole in the original Article, and it basically adds a "privately-owned lands excluded" clause to the provisions.
Due to the strong opposition from the residents, Hualien County Government revoked CP Enterprise's licenses in June 2020, citing that CP Enterprise did not reach a consensus with the local residents. The County Government also began to draft the "Management Ordinance of Setting up New Livestock Farms". Unhappy with the outcome, CP Enterprise filed an appeal, and the results came out this March: the Executive Yuan's Council of Agriculture ruled that Hualien County Government should "revoke the original disposition". In response, the County Government expressed that they remain firm in revoking the licenses and sent back the written statement to the Council of Agriculture for deliberation.
While the community members were protesting against CP Enterprise, some villagers found out the company was also building a cattle farm nearby. However, the farm was registered as a privately-owned institution. Members from the Tafalong Community went to protest outside of the construction site by lighting fire beacons and building stone walls. Community leaders and village chiefs also went there to show their support, unfortunately in the end they still could not stop the construction.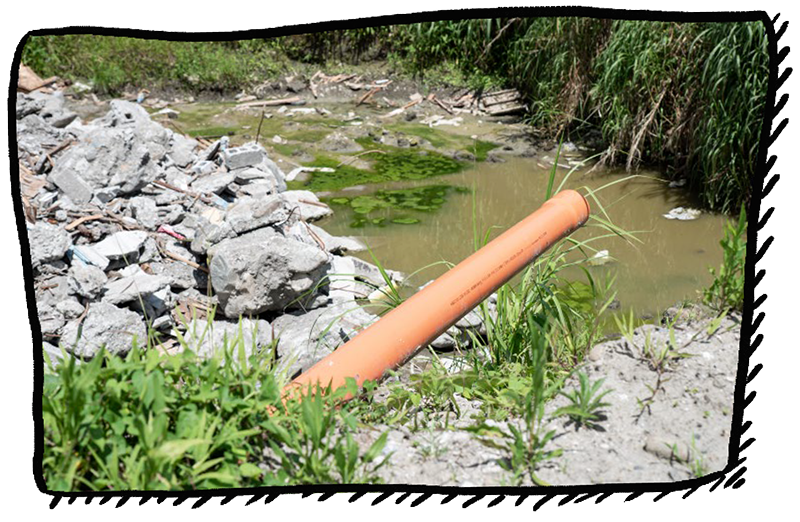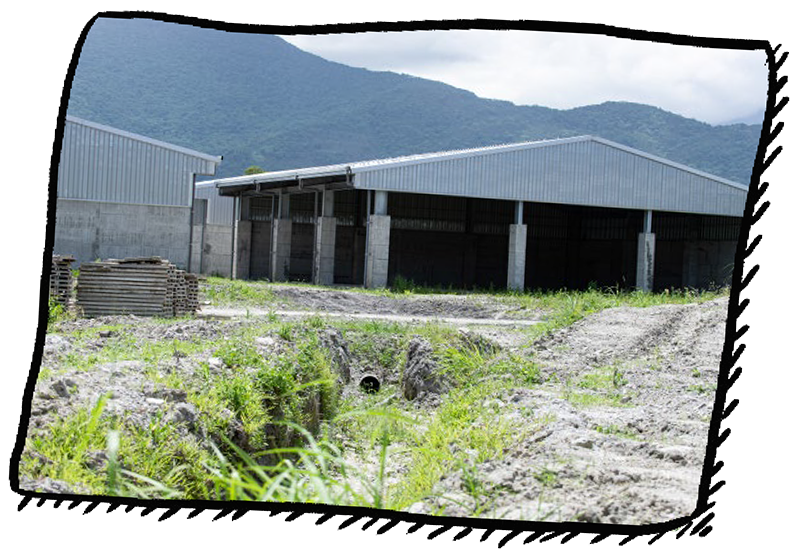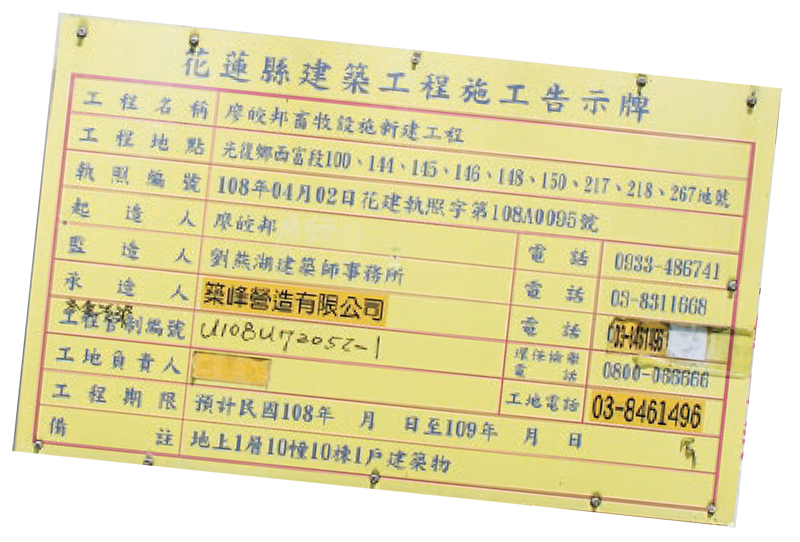 The cattle farm's drainage is connected to the water channel and may pollute the land and water source.
If You don't Try, There will be No Chance At All
Foday felt defeated by the outcome. During the construction period, he drove by the cattle farm site almost every day. "Watching it grow from a little bit to that thing you see now, the helplessness in your heart grows with it."
Someone jokingly asked Foday how much money did he make by going to protests? And is he doing all of this because he is trying to get elected village chief? Actually, all members in the Hualien Central District Youth Team have day jobs and they come to these events and movements when they have free time. All expenses come out of their own pockets. Yet these attention-grabbing events are still often misunderstood or questioned by others.
Community elders also oppose CP Enterprise, but they would say, "we used to be like you, but after a long time we realize it is futile". However, all of this has never swayed Foday's determination. "I'm stubborn, I need to fight to the last minute." He said. "Don't just talk about the cases that failed, I could become the case that won. If you don't try, you have no chance at all." Sun Zhi-Guo added, "this fire cannot be extinguished. Because development projects and factory constructions will keep on coming. If we allow the first one, it would be very difficult for the younger generations to keep the later projects out."
Every time he feels defeated, Foday encourages himself with the defense concept. "Young people have to be at the front lines of the community. When we were young, our uncles and elder brothers did this, they blocked out many things we did not know about. We used to be the ones protected inside, now it's our turn to protect the others!"
---