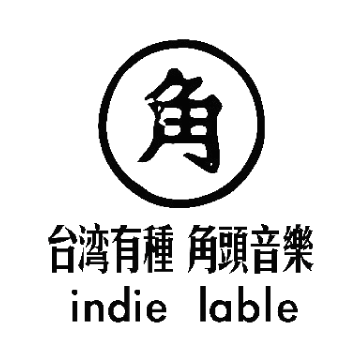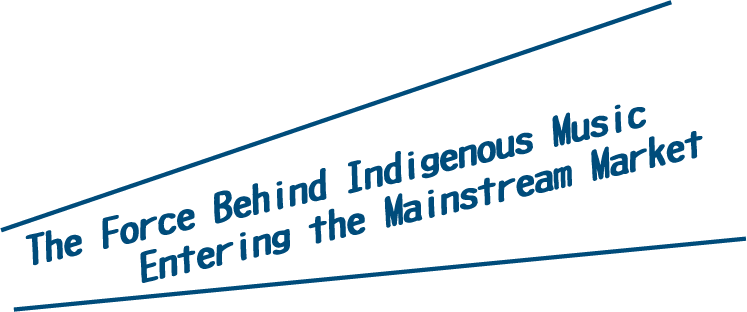 When the outside world sees indigenous singers as merely with "good vocals", Taiwan Colors Music has already discovered precious indigenous cultures. For the past two decades, they have birthed numerous Golden Melody Award winners, putting indigenous music on a bigger stage.
Samingad, Pau-dull, Panai Kusui, Hao-En & Jia Jia..., these famous indigenous singers share one thing in common, they are all discovered by Taiwan Colors Music and have been greatly successful in the Taiwan music industry.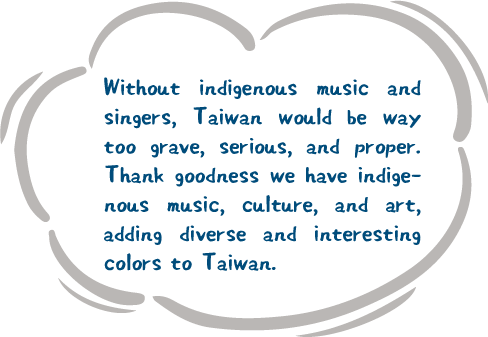 Established in 1998, Taiwan Colors Music (TCM) has been a special existence in the Taiwan music industry. They challenge what the mainstream record companies dare not or unwilling to, among which is putting indigenous music on the mainstream map. Vincent, album producer and coordinator at TCM and the head and guitarist of the band Quarterback, says that there have been other successful indigenous singers in the past, but people hear only their vocals without further understanding their indigenous cultures, "TCM is the first record company to highlight their indigenous features."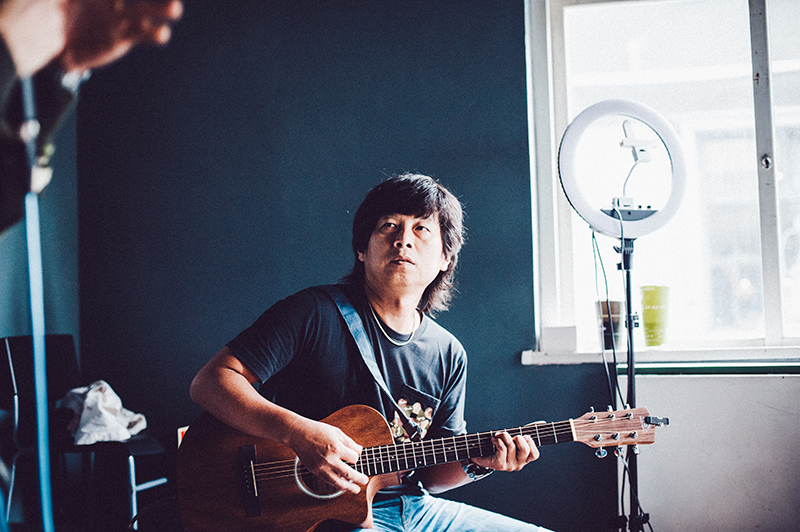 Vincent is a performing artist as well as music producer.
The Main Challenge Lies in Arrangement,
How to Demonstrate Indigenous Music Differently
Vincent's older brother Cheng Chieh-Jen, music director at Tiehua Music Village, is the key to the fame of indigenous music. While serving in the military, Cheng Chieh-Jen acquainted in the military band Kinepele, an indigenous social activist and musical talent. After much interaction and talk, he became deeply attracted to indigenous songs, which are full of life.
Vincent shares how Cheng Chieh-Jen felt back then, "my brother used to work in the mainstream record company, and they have a fixed pattern in music production, but he feels that music production should not be like a factory." Therefore, Cheng Chieh-Jen joined TCM, produced many indigenous music albums, and led the singers and songs to win many awards.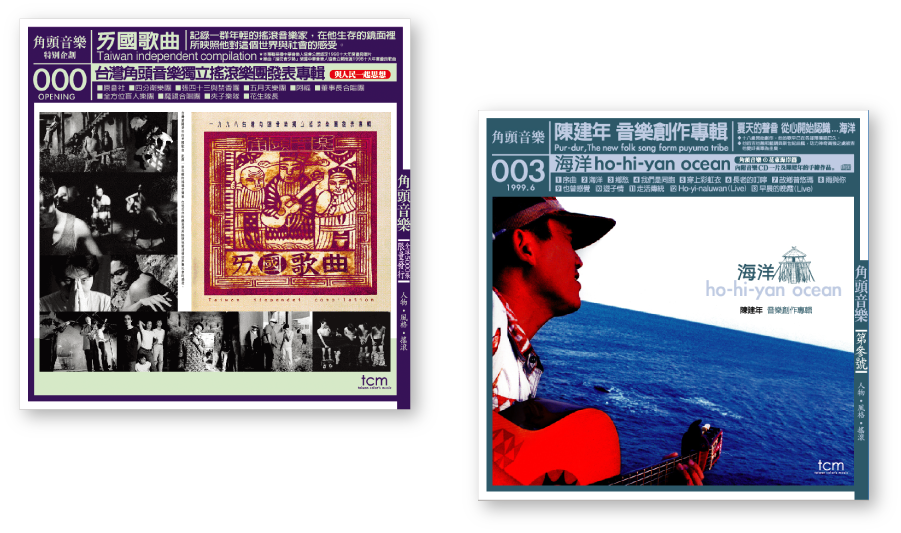 Taiwan Colors Music Puts Indigenous Singers on a Bigger Stage
In 1999, the Indigenous Music Society, formed by Kinepele, Dakanow, and Ibun, published Am Until Sunrise, the first music collection of indigenous songs.
In 1999, Pau-dull released his first album The Ocean, the folk music originated from the mountain and ocean of Pinuyumayan won him the Golden Melody Award for Best Mandarin Male Singer the same year, despite strong competition from Jacky Cheung, Wang Leehom, David Tao, and Harlem Yu.
In 2007, Hao-En & Jia Jia won the 18th Golden Melody Award for Best Vocal Collaboration. Indigenous singers are gradually taking their places in the popular music industry.
Even though Vincent didn't officially join TCM until 2001, he often helped Cheng Chieh-Jen with music production at the beginning and witnessed the birth of each and every indigenous album over the years. Indigenous music is produced with a cultural take and rather different from the stereotypical image of the indigenous community style known to all, Vincent says frankly, "arrangement is the main challenge! If you only want to record the vocals, then of course we can use them as they are, but we want the music to be shared internationally and differently."
Vincent recalls how much work Cheng Chieh-Jen put into the arrangement for Samingad. Muya, Samingad's grandmother, is the inheritor of Pinuyumayan traditional songs, and was very particular about the intonation, rhythm, pronunciation, and annunciation. The success of traditional music arrangement lies in whether the singer can adapt and whether the indigenous community can accept such arrangement. To overcome this problem, Cheng Chieh-Jen visited the Sakuban Community in Taitung almost every week, playing to the elders the arranged music, "my brother only moves forward when they nod in approval." Because of such frequent contact with the community there, Cheng Chieh-Jen further discovered more beautiful vocals.
Everyone Has Different Possibilities,
That is what We Want to See
In Vincent's opinion, indigenous singers can adapt very quickly to the international trend, "it may be due to the experiences growing up and the educational environment they were exposed to, music in the mainstream society is more rigid, less flexible, and resilient, but indigenous singers are free and untethered, born to perform and create." For example, Vincent worked with musicians from Spain and Madagascar, and produced music for Chalaw Pasiwali, the two-time Golden Melody Award winner for Best Indigenous Singer, "cross-national collaboration can spark many inspirations, making indigenous music very international!"
"Music is like cooking, different chef cooks in different ways. You steam, saut?, or keep it natural, all to make sure the customer gets the best flavor." Vincent believes that there is more than one musical pattern, and it is the mission of TCM to allow these sounds to be heard, "TCM supports the singer's wish to write original songs or sing pop songs, everyone has different possibilities, that is what we want to see."
Vincent never anticipated the promotion of indigenous music to be so successful, and he is glad that there are different sounds in the Taiwan music industry, "without indigenous music and singers, Taiwan would be way too grave, serious, and proper. Thank goodness we have indigenous music, culture, and art, adding diverse and interesting colors to Taiwan."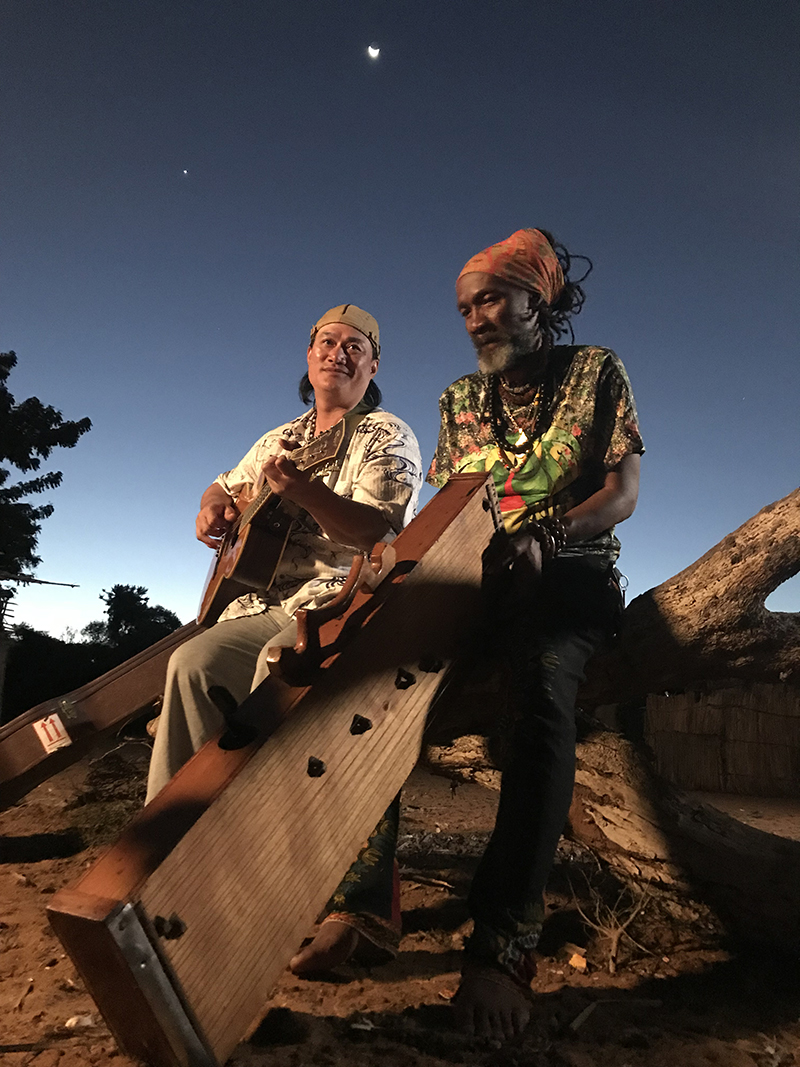 Madagascan musician Kilema (right) co-producing an album with Pangcah singer Chalaw Pasiwali.
We Challenge the Unprecedented!
Bring All Kinds of Indigenous Voices to the Stage
In addition to album production, TCM also produced in 2010 the first musical in Taiwan with indigenous peoples as the subject, On the Road is a cross-over with the National Symphony Orchestra, bringing the traditional songs of the Sakuban Community to National Concert Hall. Vincent says that in the beginning, they just wanted to put indigenous peoples on the stage of NTCH, little did they know it would become such a big project, "no one had ever done this before, every step we took was unprecedented."
When classical music meets indigenous songs, the complete opposite styles increased immensely the difficulty of arrangement, and with 60 performers from the community required for rehearsal in Taipei every week, the preparation took an entire year. Vincent shares, "music must be coordinated with dancing and connected with life in the indigenous community, every time we get together means getting to know one another all over again." Original arrangement inspires new cultural charm, not only did they hit the hundred million box office target, and the audience gave a standing ovation for half an hour during encore.
Another unprecedented feat for TCM was the hosting of Hohaiyan Rock Festival. It has been held 19 times since 2000 and is considered the cradle of independent music. The English name Hohaiyan of this rock festival is borrowed from the Pangcah language, the festival theme song is the traditional song of the Tafalong Community of the Pangcah. Vincent believes that "the more local you are, the more international you are, and this is the rock festival local to Taiwan." This rock festival has also been the debut stage of indigenous bands including Totem, Matzka, and Mafana, who have all once won the most prestigious Hohaiyan Independent Music Award.
Since the previous year, Vincent has been working as the music producer for Semenay, a music program on Taiwan Indigenous TV, and has seen many emerging indigenous talents. Filled with excitement, he says, "more than playing the guitar, these indigenous talents can handle genres across techno, jazz, and soul, and we expect another surge of new talents in 3 to 5 years." What TCM loves to see more than anything is for the beautiful vocals from the mountains and ocean to be heard in every corner of the world.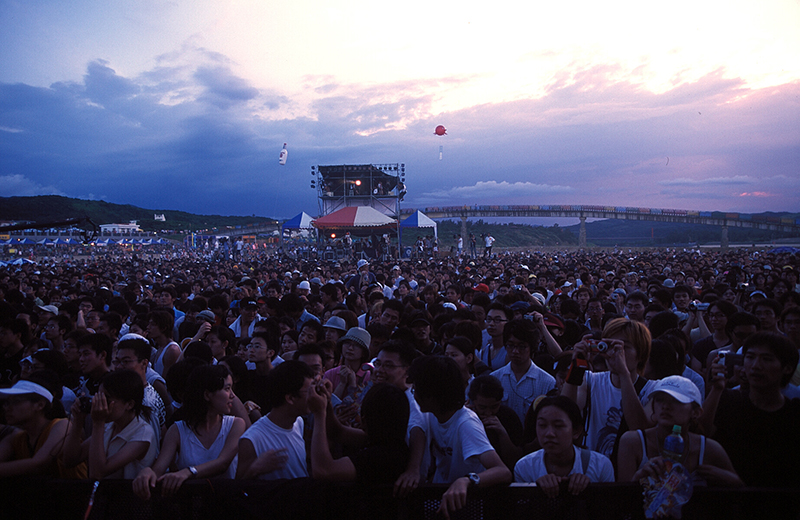 2003 Hohaiyan Rock Festival.
---