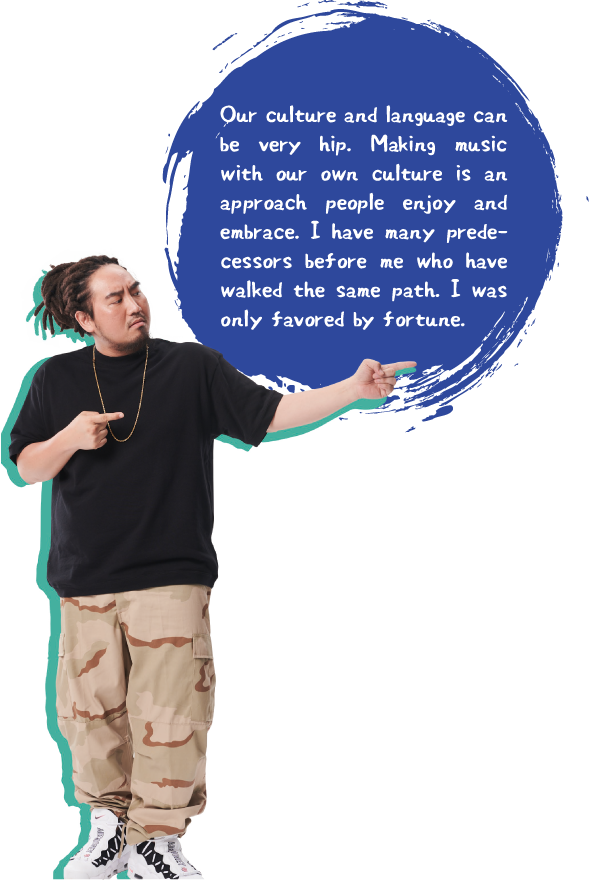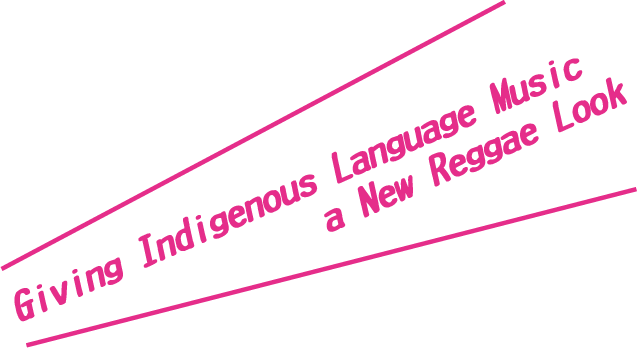 11 years ago, Matzka formed his band and released their first album. The band right away won the Golden Melody Award for Best Musical Group and rose to fame overnight. His indigenous-culture-flavored raggae made inroads into the mainstream music scene and people fell for this Paiwan music wunderkind from Taitung.
Iconic faux locs hairstyle, hoarse voice, and unique Taiwanese reggae songs, this one-of-a-kind combination tells you right away "this is Matzka!"
Matzka's music is a combination of various music styles like reggae, indigenous traditional tunes, hip hop, rock, and jazz and this fusion appears to be so natural and harmonious that one cannot help but sway and dance to the beat. This boundless creative energy seems like an born gift, however, to our surprise, Matzka started his music training quite late. He started to play music after he joined a student guitar club when he was a junior in university. And it was until he was 26 years old that his talent caught people's attention for the first time in a music contest.
From a Gamer
to an Accident Music Artist
Although music has always been a constant in the day-to-day life of the indigenous community and improvised sweet melodies are always easily available for his people, it had never occurred to Matzka that he would want to learn to play music instrument. "I did not dream of a music career. Instead it was a gaming career I wanted to pursue in the past!" He laughed out loud as he said this. As a hopeless gamer, he was obsessed with video games at the age of six. Even now when he is almost 40, he still plays two hours of video games every day. He even had a track record of playing computer game for 72 hours nonstop.
But before he could join the gaming industry, influenced by his dance-loving cousin, Matzka joined pop dance club when he was in high school. He mastered all kinds of street dance styles. Later, as all the members of his dance group were drafted by the army, without company, he stopped dancing. However, he has acquired excellent sense of grooves so he is accustomed to "listening" to music with the his body.
After going to university, as Matzka studied in the night school, he wanted to find a place to stay between classes so he joined the guitar club. But why guitar club? "Because the club office was air-conditioned." Matzka replied without hesitation. A senior classmate once asked him stepped in for a singing gig in a restaurant and Matzka realized this could be a source of income. He started singing and playing at restaurants and also began to write songs.
Falling for Reggae Like Love at First Sight:
I Feel Most Comfortable with Raggae
In 2008, having an eye for the 300,000 first prize money of Taiwan Music Composition and Songwriting Contest, Matzka teamed up with friends and signed up for the indigenous language category. "The prize money could pay for my tuition fee and rent." Matzka was raised by his vuvu (grandma) and has no problem using his mother tongue. He composed Mado Vado, combining reggae, indigenous language, and ballads. This refreshing piece not only won him the first prize but also became his iconic debut song. In the following year, his band won the Indie Music Award at the Hohaiyan Rock Festival with the same song and released their first album in 2010.
Despite the fact that Matzka's first step into music circle was purely coincidental, he is dead serious about making music. And the root of his earnestness comes from his passion for reggae. He recalled that he overheard Matisyahu's album as the counter was playing it during one of his band practice. This was his first experience with nontypical reggae. "He fuses various types of music on the basis of raggae. The tempo and vibe of the music are so attractive. It's so cool!" After he fell in love with reggae at first sight. He started his research deeper into the style and this effort led to the birth of Mado Vado. Matzka has experimented all kinds of music styles in his eleven-year music career, "but I still feel most comfortable and at home with reggae." He said.
After they released two albums, the band's contract expired and members one after another returned to their hometown Taitung. In 2015, Matzka went solo and released his own album. "I was young when I had my band. Because I was naive about a lot of things, I was not afraid. The four of us together could try a lot things. Then I am alone now. Although it was less fun, I have more freedom to work with different musicians. These are totally different scenarios." He said.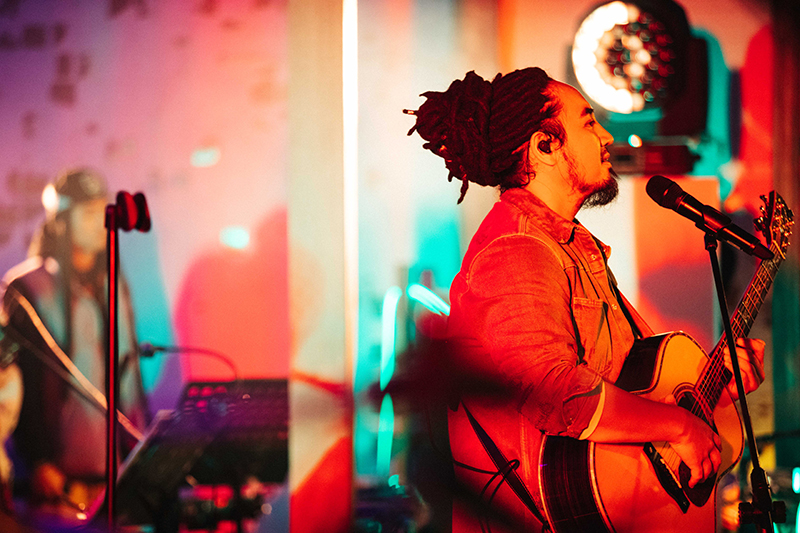 I Draw Inspiration from Day-to-Day Life
and Show People that They are Not Alone
Over the years, Matzka composed many songs in his mother tongue. He would weigh the nature of the song and choose the right language for it. "It is natural to compose in my own indigenous language. However, I don't want the burden of certain social anticipation. What matters is how I like it and the music sounds good to the ears. It is not right to differentiate music with language." Matzka said.
He draws his inspiration from day-to-day life and his works speak about his concerns about indigenous issues. For example, No K is about the crisis of the loss of indigenous languages. Taitung Hunk talks about the discrimination faced by those indigenous people who move to cities in the north. Ayi is about the crisis of losing the traditional territory. U Wa U is about how badly an city indigenous girl misses her hometown.
"This is my life. Actually a lot people experience similar situations. I sing about these circumstances with my indigenous identity. Other people can approach these issues with their Hakka identity for example. I hope to convey the message that 'we are all the same'. We have similar experiences, so we can support each other, share what we have. After all, life here can be difficult." Matzka eloquently talked about his own creative philosophy.
In fact, when his band won the Golden Melody Award, despite songs in mother tongue already gained traction on the pop music scene, they were still quite rare. "Our culture and language can be very hip. Making music with our own culture is an approach people enjoy and embrace. I have many predecessors before me who have walked the path. I was only favored by fortune." Matzka spoke of this from the bottom of his heart.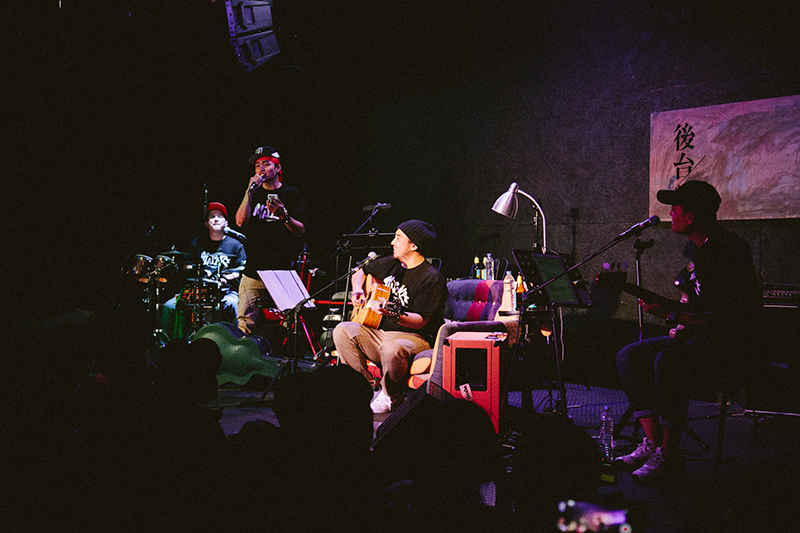 Overcoming His Frustration,
Matzka Went Back to His Starting Point of Making Music
Because of his music, Matzka not only became well-known in Taiwan but also claimed his unique position on the music scene overseas. However, his career path is not always smooth without setbacks. In 2020, before he released his third album Back to the Roots, he experienced a long period of frustration. He left his comfort zone and started to write songs for other people. When asked to revise over and over again, he couldn't help but feel that "making music is like working in the service sector." What's more, he felt that he had exhausted his stories and this caused his composer's block.
Without second thought, he simply withdrew from the music environment and went back to Taitung to renovate his house. He did not work on his music for a total of six months. "This move made me miss music and when I went back to it again, the passion was rekindled." After Matzka experienced all there was for him, he wrote the song Back to the Roots. The lyrics express how he felt-"we always come back to the roots after we weather what life has to offer."
"In 2008, I was like a piece of blank paper. I did not know better and I had all sorts of wild ideas. I did not care whether this chord would work with the other or not. All I had was courage. Now I am old. I worry about this and that. I wanted to go back to that simple state of mind and make the music I really want." Matzka earnestly expressed what he thought.
In addition to music, Matzka also wanted to reset his life to its most comfortable state. He left home for school in the north since high school and stayed for college and work. In a blink of an eye, more than 20 years have passed and he only went back to Taitung twice a year when he was busy. "I have given so much of my time to the city. Now I want to spend more time in my hometown." Matzka has a plan to move back to Taitung. In the future, he will draw inspiration from his new life in the indigenous community. "Taiwan is such a cool place, but people are not aware of that." His person is like his music. He always shows a unique and brisk personality through the fusion of diversified elements.
---